Eating Well Is The Best Revenge
by Diana Farr Louis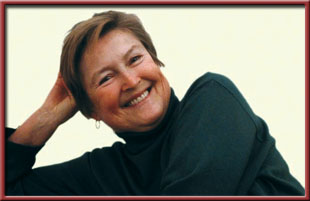 ATHENS, Greece—(Weekly Hubris)—5/31/10—The shocking news of Dun Gifford's massive heart attack three weeks ago plunged much of the international Food World into mourning.
As founder and president of Oldways Preservation and Exchange Trust (www.oldwayspt.org), Dun led the crusade that made the Mediterranean Diet a familiar concept in butter-loving countries. He mustered campaigns to change the way Americans eat, organized scientific conferences that proved the benefits of grains over meat and of wine over milk, encouraged chefs to buy from local farmers, and ceaselessly promoted healthy but delicious "old ways" of eating and drinking.
What made Dun's achievements so exceptional was not just his intelligence, his vision, or his zeal, but his contagious enthusiasm, which transformed work into sheer pleasure.  From 1991, the year after he set up Oldways in Boston, one of Dun's most successful ways of advancing Mediterranean traditions was to hold week-long symposiums on the food, wines and products of a particular region on the shores of that great inland sea.
Gathering sponsorship from local authorities, olive oil councils, trade organizations, and corporations, he then invited well-known food writers, cookbook authors, chefs, importers, nutritionists, and physicians . . . from the US and Canada, the UK, Italy, Turkey, France, Spain and Greece to attend. And then spread the word of the products back to their countries of origin.
This was not a question of nodding off in a hotel conference room, networking at the coffee break, and dressing up for a mundane banquet. Instead, an Oldways symposium held to a flexible recipe. Of course, learned talks and discussions were a key ingredient, but they were seasoned with visits to notable landmarks, cheese makers, ouzo factories, agritourismi, phyllo and pizza experts, water buffalo farms, fisheries, olive presses, and more, all over the region. Local cooks revealed some of their secrets in demonstrations and some days seemed filled with more meals than prudent or even feasible. (A key factor of the Mediterranean way of life—"Everything in moderation."—was suspended for the duration of each symposium.
Each meeting embodied a very special alchemy. And being admitted to this select group was as thrilling as getting into Harvard. To the point that some people refer to members as "Oldways alums." Close relationships were formed, bonding took place—especially on the tour buses that carried us round to our moveable feasts. There, hilarity seemed to erupt constantly from the back of the bus where the hard core Cambridge/California crew used to joke and tease like school kids.
Surprisingly, the very first symposium took place in Greece, at the Porto Carras Hotel in Halkidiki. People still talk about it but I didn't learn about it in time to wheedle an invitation. Next came Barcelona, Tunisia, Morocco and Puglia (Italy), before Oldways returned to Greece with a meeting on Crete in April 1997.
This time, having published one cookbook and starting another on Crete, I managed to get myself invited through the great kindness of a friend of a friend, Paula Wolfert, an Oldways regular. That week catapulted me onto a new planet.
Those were the days when the Mediterranean Diet pyramid had been constructed as a rather more healthy alternative to the one designed by the US Department of Agriculture, which lumped meat, eggs, beans and nuts together near the top, and aimed at zero fat, making little distinction between the benefits of olive oil and the dangers of animal and saturated fats. Oldways had developed it, working closely with Walter Willett of the Harvard School of Public Health. I listened raptly to talks by him, Antonia Trichopoulou, who proselytizes the cause of healthy eating round the world, and Marion Nestle, the noted nutritionist, who made us sit up by saying more diet books are printed yearly than cookbooks.
We trooped around Knossos and Phaistos, watched women roll paper-thin pastry with "broomsticks" on tables just inches above the floor, and stood back as snails sizzled in a pan of vinegar. But the culminating moment was a dinner prepared for us by village women in a Cretan schoolhouse: chickpea soup, lamb pilaf, artichokes with broad beans, greens, cheese pies, followed, improbably, when we were about to burst, by pork broth with trahana. Then came lyras, fiddles and spirited dancing. And the true magic of the Mediterranean—hospitality, generosity and kefi (joie de vivre)—had us in thrall.
I was to witness this combination again and again: in the hamlet of Badalucco in the mountains above San Remo, where we ate salt cod and beans, serenaded by a village choir; in a bleak wine-bottling factory in Puglia, where the women had cooked a feast for us and an accordion combo played contadini and kept cosmopolitans dancing reels all afternoon; at an ouzo plant in Lesvos . . . . These were the ultimate examples of what Dun meant when he talked about "excellence in simplicity" and "enjoying mealtimes as a celebration of life."
But we also mingled with aristocrats, at a gala dinner in Andrea Doria's palazzo in Genoa or at an oil-tasting at a masseria (grand estate) in Puglia, where the owner's family tree covered a whole wall (and one thousand years). Wherever we went, we encountered the same warmth—that I believe evolved from Dun's magnanimous personality and his skill at choosing just the right people to represent each region and the right ones to introduce them to.
One evening which particularly touched me occurred on the island of Chios in 1999. We were dining and listening to music in a taverna so close to the Turkish coast that we could see the headlights of cars driving along it. Our table included both Greeks and Turks. One Turkish food writer said, "When I close my eyes, I could be at home. The music's the same; the food so similar. And Ihsan Gurdal, owner of Formaggio Kitchen in Cambridge, Massachusetts, and a former star volleyball player, added, "When the Turkish team played Greece, our coaches always told us to go out and 'murder' each other, but we never did. How could we? We were brothers; we ate the same food."
Dun Gifford has left many legacies. As head of Oldways, he also developed food pyramids for the Asian, Latin American and Vegetarian diets; he initiated the Chefs Collaborative aimed at supporting local sustainable agriculture; with the Harvard School of Public Health he set up seminars in Italy for American health professionals that were crash courses in nutrition; and he instituted programs in schools to encourage families to make healthy eating choices. "Never forget that we are looking at food, not vitamins!" and "Wine is not alcohol: it's culture!" were two of his favorite sayings.
But, to me, his greatest accomplishment was to use good, genuine food to inspire and unite so many, many people all over the globe. We will all miss him terribly: yet, every time we cook and eat a wonderful meal that respects our bodies, the earth, and living traditions, we'll be furthering his goals.
Thank you, Dun, for setting us all on the right track.