Skip the B.S.
By Skip Eisiminger
"The notion of cold fire lurking in flint was intriguing and remains so. Often, when my shovel strikes a stone in the garden and a spark flares up, I think of Dave's haiku. And though I have lost touch with my friend, I hope he thinks of me when he loses himself in a chromatic analysis of fire."—By Skip Eisiminger
"A piece of green pepper fell/off the wooden salad bowl:/so what?"—Richard Brautigan
"through the small holes/in the mailbox/sunlight on a blue stamp"—Cor van den Heuvel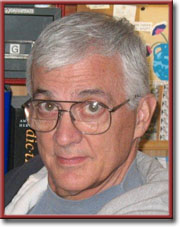 CLEMSON South Carolina—(Weekly Hubris)—6/2/2014—Shortly after World War II, the Japanese Emperor sent an artful "letter" to his people. Though Hirohito had confessed himself a mortal, he still had an imponderable influence on his people, many of whom still worshiped him. At any rate, their ousted god wrote:
Under the weight of winter snow
The pine tree's branches bend
But do not break.
Some thought the royal haiku was a wabi-sabi expression of stoic calm, but the consensus in the Civil Censorship Detachment was that the verses were defiant. Nevertheless, perhaps in a conciliatory mood, the Americans allowed the "pebble-in-a-mossy-pond" poem to be published in newspapers across the country. Whatever the intent, as the pebble's circles spread, peace was restored, the occupation was lifted, the snow melted, and the pine branches proved resilient.
Over the last 50 years, I too have engaged in some haiku exchanges through the mail, over the telephone, in little magazines, and now by email. I have read of haiku Twitter exchanges, but I've yet to tweet a twaiku.
My own exchanges began when I left an engineering curriculum at Georgia Tech in my freshman year, enlisted in the army, and met Dave Shuler, a recent Oberlin College drop-out. Dave was reading Harold Henderson's collection of haiku when I met him and, when he finished reading it, he gave it to me. It was the first book anyone outside my family had given me. Once we finished our military schooling, he was sent to Mt. Meissner, and I was sent to Heidwinkel/Bahrdorf, both in West Germany.
After reading Henderson's translations and plunging into the shallow form myself, I wrote Dave via the company's teletype on returning from field maneuvers:
Old stone fire pit—
The yellow flames sputter orange,
Blink, blue, and black out.
Dave replied more freely a few nights later:
Cool, gray, and smooth—
the airless flame
ablaze in flint.
The notion of cold fire lurking in flint was intriguing and remains so. Often, when my shovel strikes a stone in the garden and a spark flares up, I think of Dave's haiku. And though I have lost touch with my friend, I hope he thinks of me when he loses himself in a chromatic analysis of fire.
After I was discharged, I returned to college as an English major and continued the alchemical struggle to turn 17 syllables into gold. When Jane Morris, an old friend of the family, moved to Vermont to help care for her sick brother, I wrote her a haiku apropos of the season:
Does October's wind
throw sparks at heaven?
There's a burr in my sock.
After the first snow up north, Jane replied with a pungent memory of Southern winters:
Carolina snow—
sweat runs down my back
and makes my sweater stink.
After an inexcusable pause, I wrote her back in the spring:
In my rain bucket,
skies and mayflies swim
in Appalachian snows.
When Jane's brother died that summer, she wrote:
Where's the daffodil
of yesteryear? A goldfinch
pops up in the grass.
Advised by Jane that I would soon need an academic "union card," I returned to graduate school after reading the poetry of James Dickey, who was teaching, just two hours away at the University of South Carolina. In the first of the classes I took from him, he instructed us to write five "breath poems" and gave us 20 unsigned examples including this one:
A strange old man
Stops me,
Looking out of my deep mirror.
I still have the notes I took on that three-page hand-out and, while he never said he'd written the three lines I've quoted, he did say there were times he'd become a stranger to himself. Assuming he'd written the poem above, I wrote him the following:
At the corners of the tent,
the kids looked in,
the clowns out.
Dickey was not amused, saying I'd written a senryu, another Japanese form which tends to be flippant and more topical than haiku. With eight typewriters in his home (on eight desks for his eight latest poems), Dickey was a busy man.
When I resumed teaching, I would occasionally be invited to conduct a workshop in the local schools. Once after leading a group of sixth graders through the Clemson Forest looking for pine cones, wild strawberries, skulls, indeed, anything natural or seasonal which might trigger a haiku, a pink-cheeked girl l'll call "Jenny" submitted the following:
Boys are very dumb.
They make me puke all over.
They throw snakes on you.
A pear-shaped admirer of Jenny's who wore a straw hat and chewed a stalk of grass wrote:
Jenny is sexy,
And she has a big behind,
But Jenny is fine.
This is not deathless haiku or even senryu, of course, but both "Jenny" verses were natural and, broadly interpreted, seasonal. Still, I was glad I did not have to grade them.
Naturally, the haiku written by my juniors and seniors at Clemson were more sophisticated. One student I'll call "Amy" told the workshop I was leading that her grandfather used to buy several watermelons at the farmers' market, bring them home in his pick-up, and announce his return with a toot of his horn. As the visiting grandchildren ran to greet him, the grandfather would roll a melon off his tailgate under a shade tree. Amy wrote:
Split melon on the grass—
each seizes a slice
of the cool, dense heart.
Taken with this gustatory imagism, I replied with a melon haiku of my own:
the spoon turns
an egg—
the knife, wedges
Many years later, when our daughter, Anja, and family moved to Charlotte, North Carolina, they bought a long-in-the-tooth home in a gentrified neighborhood. After the first thunderstorm, Anja wrote:
Lightning!
And every nail in the house
Gleams.
One of the house-warming gifts my wife and I had given Anja was a faceted crystal like the one she had enjoyed as a child, chasing blurs of colored light around our kitchen. As grandparents, we wanted our grandchildren to enjoy the lights just as their mother had. Wrapped with this prism on a string, I added this:
Sunlight strikes
The beveled glass
—rainbows!
In 1989, when my wife was recuperating from a mastectomy at Emory University Hospital, I wandered over to the library one afternoon while she napped. I'd seen a poster announcing the visit of some medieval "mercy seats" on loan from a cathedral in England. One showed a flock of chickens gleefully basting a spitted fox; another showed a pig playing a pigskin bagpipe, but my favorite was a worn carving of Eve before the Fall. I wrote several misericord senryu after that visit, and here's the last in the series:
Centuries of monks
have worn choirstall Eve
flat chested.
In a fit of self-pity, I filed it away, for where would I send it?

In Billy Collins poem "Japan," he claims that reading a handful of haiku is like eating a bunch of grapes:
. . . the same small, perfect grape
again and again.
But reading a hundred haiku submitted by 20 students new to the form is more like eating loose cherries from a paper bag: some sour, some over-ripe, and some perfect in taste and texture. Come to think of it, collections by definition are uneven.
So, how does one find or write the perfect haiku? A decade ago, I culled everything I could lay my hands on for a workshop I was leading and compiled 19 rules. But 19, to an obsessive like me, was a 5-7-4 haiku to Basho, so I added No. 20: "No good haiku follows all the rules." Indeed, I have read successful haiku that:
rhymed
had two lines or four
had more or fewer than 17 syllables
did not deal with a season
discarded the pepper pods and kept the abstractions
looked in more than out
were allusive rather than illusive
failed the balance of too much and too little
gave us more of the slopes than the peak
So, I've given up my attempts to define the form. There's more to be learned from the charcoal sketches of Michelangelo, which have a completeness and perfection of their own. The master or his assistant kept a handful of his drawings and threw away the rest. Likewise, the haiku that evoke a smile, not laughter, and don't need a volume of commentary are the keepers. Now place those in an envelope and send them to someone you love.

Note: the image of Japanese sages, united in mirth, derives from http://www.alaintruong.com/archives/2013/01/02/26047395.html; the second image, which incorporates persimmons and quotes from Basho, derives from http://sequinsandcherryblossom.com/2013/01/09/the-japan-society-takes-me-on-the-narrow-road-to-the-deep-north/.