Skip the B.S.
By Skip Eisiminger
"The solution, I feel, lies in the separation of 'church and state,' or divorcing the revenue sports from the academy. I don't favor abolishing the 'Big Two,' just ending the charade of the 'scholar athlete.' Under my proposal, these programs [college football and basketball] would effectively become 'rent-paying tenants.'"—Skip Eisiminger
"Bubba had no word, just a primal scream/used five hundred times in his freshman theme."—The Wordspinner
"When no one is watching, seize the poor dears/and bite the shrink wrap that covers their ears."—The Wordspinner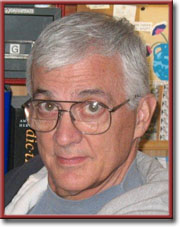 South Carolina—(Weekly Hubris)—3/24/2014—Some may think I'm a killjoy who bursts the beach ball with his cigar when it comes bouncing down the bleachers, but I'm not.
I loved running track in high school and playing intramural softball for 40 years. I've watched the "lateral-palooza" on YouTube more often than I've seen Hamlet. I love the memory of the wide receiver who, running at top speed, grabbed a goal post, spun himself 180o, and caught a pass thrown behind him. And I love the 109-yard run-back of a field-goal attempt that beat the top-ranked team in the country as the clock ran out. I love that play, and it's not because I'm a double alumnus of the school that won.
I love these stories and the events that inspired them because there have been times when I was the star, and I remember the thrill of having done something that made a lot of people happy.
In 1983, at an ETS Advanced Placement Reading, some French and English readers were rehashing the Battle of Agincourt over pitchers of beer. Recklessly, a Frenchman demanded a "mulligan," by which he meant a "softball game." I say "reckless" because the French have never played a lot of softball, or golf for that matter. In any event, I hit a walk-off home run for the English team and was "chaired through the market place" by my teammates. Though I pulled a muscle in that game, Joe Namath was right: "Nothing hurts when you win." Don't tell my wife, but the celebration in the Rider College pub ranks up there with my wedding day and the birth of our children.
But to return to that beach ball: I was reminded of teaching English to "revenue sport" athletes when I read of the death threats Prof. Mary Willingham has been receiving. Unlike me, a former English instructor, she is a reading specialist and counselor at UNC's Center for Student Success, where I hope she's tenured. Between 2004 and 2012, her university-approved research showed that 60 percent of all football and basketball players were reading at between fourth- and eighth-grade levels. And about 10 percent were reading at the third-grade level or below. The threats are from some who apparently regard exposing the truth as a capital offense.
Those figures are higher than what I would have expected, for I have only known one college freshman in 40 years who read below the third-grade level. Here's a sample of his writing: ". . . to be Best in footBall at my school. It mad me fill vergood and all so my morth Becoure Se had did a good jod oue helpe me to Be Best[ . . . . ] I fill like I mad a good foolBall playe- at my [The text ends here.]"
Rewritten, this passage might read, "Being the best in football at my school made me feel very good. It also made my mother happy because she did a good job helping me to be a good person, which helped me to become a good football player at my high school."
Of course, admitting an athlete to a university with the academic skills demonstrated here had to be humiliating for the victim. Fortunately, the young man left school before he was injured any more than he had been.
After I failed the football team's quarterback one semester and the basketball team's power forward the next, I never had any more football or basketball players in my classes. I taught numerous swimmers and track athletes, who were fine students for the most part, but no more revenue jocks. Tenure was not designed for those who fail these athletes or expose their ignorance like Ms. Willingham did, but I was glad I had some insurance.
Like Senator Bill Bradley and sport journalists Buzz Bissinger, George Dohrmann, and Rick Telander, I have argued for years in satirical verses, letters to the editor, and courses like "Sports and Literature" that the revenue sports have lost their way. Here are some of the blind alleys they have taken:
·     If football is "safe" compared to swimming and boating, why are footballers three to four times more likely to die from brain diseases than the rest of the population, and why do 66 percent of NFL players sustain a permanent injury before they retire?
·     If sports build an "ethos of excellence" for a school's student body and its alumni, why don't Florida State and Alabama lead the nation in scientific and humanistic research instead of schools like MIT and Chicago?
·     If sports teach "controlled aggression" or "manly character development," why are rape, theft, and murder much more common among revenue-sports athletes than the rest of the population?
·     If revenue sports are "vital to a university's interests," why don't Oxford, the Sorbonne, Freiburg, Tokyo, IIT Bombay, and Beijing have affiliated revenue producing teams?
·    If college sports teach "delayed gratification" as a component of success, why were 30 young men on one college football team the absentee fathers of over 50 children? And why do 86 percent of NFL players have serious money problems within five years of retiring?
·     If resources are scarce in a tight US economy, how could one school afford to dig up a grass practice field, replace it with a synthetic field, and replace that a few years later with an 80,000-square-foot indoor facility? Total cost: about $11 million.
·     If athletes are supposed to be receiving an education for their efforts on the field or court, why are many being placed in Potemkin-style courses which require little or no work and reward the student with A's?
·     If the salaries of public employees are any indication of their worth to the state, why in 41 US states are coaches paid more than their governors?
·     If college football is such a money maker, why did 43 percent of the 120 schools in the Football Bowl Subdivision lose money on their programs in 2011-12?
·     Finally, if high-school athletes want to continue playing football or basketball and have no interest in higher education, why aren't there minor leagues in which they can develop their talent?
The solution, I feel, lies in the separation of "church and state," or divorcing the revenue sports from the academy. I don't favor abolishing the "Big Two," just ending the charade of the "scholar athlete." Under my proposal, these programs would effectively become "rent-paying tenants." The facilities would remain where they are, but the athletic director would negotiate the terms of the lease with the "landlord" every year or so. The athletes would be free to attend classes, but they would not be under any obligation. If a team cheated, it would be punished by a revamped NCAA, and the victimized university would be free to alter the terms of the lease. Coaches would cease to be state or university employees, and the players would receive salaries comparable to minor-league baseballers. They might also be paid with scholarships to any school they wished to attend after finishing their athletic careers. Smaller programs might be subsidized by the NFL or NBA.
At any rate, it's time for the Clydesdales to resume their place in front of the tea cart.

Bear Bryant used to boast that no one can "rally 'round the math class," but does a serious student really need to rally around any class or team? Each day, we rise alone to resume T. S. Eliot's "raid on the inarticulate." And each day, we learn to respect language the way we respect our names. [Add: homes with more trophies than books?]