". . . and you sitting behind the wheel/turned to me and said:/'It's like slicing butter in heaven.'"—Malena Mörling
Speculative Friction
By Claire Bateman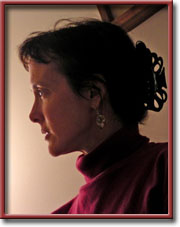 GREENVILLE South Carolina—(Weekly Hubris)—June 2017—"How Wondrous Strange It Was at that Moment to Be in the Flesh" first appeared in Ocean Avenue, Malena Mörling's first book. Mörling, born 1965, is a Swedish-American poet and translator. Her two collections are Ocean Avenue, which won the New Issues Press Poetry Prize in 1998 and Astoria, published by Pittsburgh Press in 2006. She has translated works by the Swedish poet Tomas Tranströmer, the Finnish-Swedish poet Edith Södergran, and numerous other Swedish poets as well as the American poet Philip Levine. She was awarded a John Simon Guggenheim Foundation Fellowship in 2007 and a Lannan Foundation Literary Fellowship in 2010. Mörling is a Research Associate at the School For Advanced Research on the Human Experience in Santa Fe, New Mexico. The poet was born in Stockholm in 1965, and brought up in southern Sweden. She is currently Associate Professor in the Department of Creative Writing at The University of North Carolina at Wilmington and Core Faculty in The Low Residency MFA program at New England College. (Biography derived from Wikipedia.)

"How Wondrous Strange It Was at That Moment to Be in the Flesh"
By Malena Mörling
The year we lived in our car,
there were clouds above us
like mountains
that did not weigh anything.
There were voices rising through the static
singing San Diego Serenade or Benedictus
Qui Venit and once Hardenberger played
an Albioni trumpet solo somewhere
in Ohio and you sitting behind the wheel
turned to me and said:
"It's like slicing butter in heaven."
How wondrous strange it was at that moment
to be in the flesh. Far off, fleets
of clouds moved over the grass.
And on the ground, their shadows
that will never be aloft
raced after them.
And everywhere we looked there were dandelions.
Those lights that have grown up out of the earth.

To order copies of Claire Bateman's books Scape or Coronolgy from Amazon, click on the book covers below.