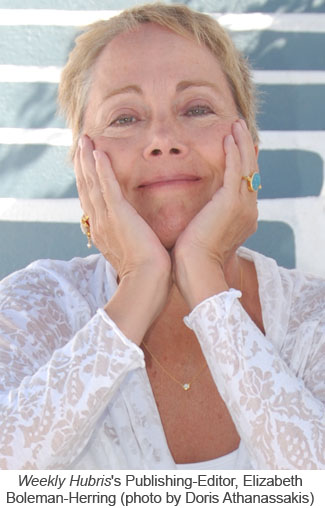 The Publishing-Editor of Weekly Hubris was once upon a time joined by a plethora of diverse international authors, poets, artists, humorists, musicians, athletes and commentators of various stripes, driven by diverse creative and ideological demi-urges, to bring . . . "more light" to readers scattered across the worldwide web. (Hence our overall title, which derives from the life's work of the late, great Titan, Prometheus, whose exploits on Mount Olympus were undertaken for the greater good of humanity. Hey, without quite a little hubris, we're nothing, zip, nada.)
Our contributors comprised a self-proclaimed-Wordspinner-cum-puzzle-master; a perpetually and passionately outraged British barrister; an expatriated and ex-urban poet-politician; a playwright-cum-Reiki-Master; an Aikido-Sensei-cum-cartoonist; an itinerant, literate gastronome (our Fabulous Foodie); an adventure-prone, journeyman technical writer; a Deep-Fried-Southern Austen & Autobiography enthusiast; the eternally-pissed-off F. Theresa; men of books and much more from Alaska and North Carolina; a financier fled from the Halls of Mammon ("The Money Whisperer"); one of the foremost young poets of America; a trumpet-playing martial artist devoted to The Prophet; another trumpet-playing musicologist fond of the open road (and fries with it); and Elizabeth, who writes about her vida loca, Yoga, mortality and politics, in roughly that order.
. . . and the archives of all these writers will be preserved here, in virtual space, while WeeklyHubris survives as a publication.
However, because the publisher, the publisher's husband, their trusty webmaster, and the occasional financial angel have shelled out rather big bucks to keep this -zine afloat over the past two years, The Not-So-Great Depression has necessitated the (we hope temporary) shrinkage of the publication, and the offering up of work by those willing to shoulder part of the load: as a result, we are now, willy-nilly, primarily an archive, with a new offering if and when someone finds a spare penny in her or his shoe.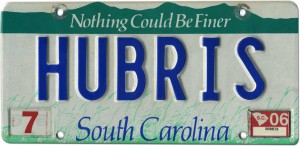 Be that as it may, however you arrived here, you are most welcome to return, whether your interests run to First World lunacy; the stock market (a sub-set of the former category); the Mac vs. the PC; living with encroaching wildlife; major psychiatric disorders as expressed by close family members; Aikido, Iyengar Yoga, or Mixed Martial Arts; verbal stylistics for stylistics' sake; the efficacy of Reiki; a cat named Xerxes; crème brulee and taramasalata (not served together); the infallibility of the Pope; the words of The Prophet Muhammed; moral bankruptcy in China; sex in middle and old age; the inexplicable and eccentric alter egos of human body parts; and/or how to marry two gay husbands and (still) suspend your disbelief (again and again).
Come back weekly. We'll be here. Some of us. Soldiering on. Stealing a little fire from the gods. For you.
Oh. And SUBSCRIBE, dern it. Fill out the form. Now. It's free, risk-free, and you'll receive weekly alerts as to who's written what for any given Monday's issue.
Read Weekly Hubris. It's one of the lesser-known paths to enlightenment.
Namaste, Y'all!
Elizabeth Boleman-Herring
Publishing-Editor, Weekly Hubris