"I finally appeared on stage as a chorus member in a production of Euripides' Hippolytus. The school critics thought I'd made a creditable Horatio in Hamlet but, in Twelfth Night, they were expecting Alec Guinness and met instead an uncured ham. One night, after a friend carelessly wished me good luck in my portrayal of Shakespeare's Sir Andrew Aguecheek, I 'broke a leg.'"—Skip Eisiminger
"Confessions are swords with which to parry/The guilt which ensues when lusting for Harry." —The Wordspinner
"After scores of peccadilloes are confessed,/I long for a place where a sneeze is unblessed." —The Wordspinner
Skip the B.S.
By Skip Eisiminger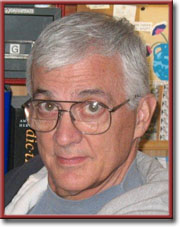 CLEMSON South Carolina—(Weekly Hubris)—9/21/2015—Forty and some odd years ago, James Dickey, commenting on one of the poems I'd submitted to his workshop, told the class, "Skip is the Victor Mature of poetry." I smiled in a goofy, tongue-tied way, not quite sure who Victor Mature was and how the allusion applied in any constructive way to me as a writer. After I'd figured out the insulting nature of the comment, I submitted some satirical verses which included:
I'd much rather rage
in the dying of the light
as the Mature of the page
than the Dickey of the stage.
This wisecrack surely didn't help my grade, but I wanted the professor to know that I resented his random insult. Indeed, Mature, the son of poor Italian immigrants, who had briefly operated a restaurant before becoming a Hollywood star, knew well his theatrical limitations. In a poignant interview late in life, he admitted to being more style than substance, saying he had 70 films in the vault to prove it.
A couple of years later, my wife and I went to see the much anticipated adaptation of Dickey's Deliverance. In the John Boorman film, the novelist had managed to have himself cast as a Southern country sheriff who suspects murder but cannot prove it. To get the bona fide look of shock that Boorman wanted in one scene, he cast Dickey's son Chris in the role of a sheeted corpse, unbeknown to the father. With the exception of the fleeting but convincing expression when the sheet came off, Dickey showed himself to be the Victor Mature of the stage, and I have a film in the vault to prove it.

My earliest impulse to act rose like a champagne bubble from my eight-year-old brain after meeting Cary Grant on the set of I Was a Male War Bride (1949). The director, Howard Hawks, needed a pontoon bridge for Grant to cross in one brief scene, and my father's combat-engineer battalion was chosen to build it. While Dad and the men of the 1698th put the finishing touches on their Neckar River training exercise, my mother fed Grant the deviled eggs she'd prepared for a picnic lunch. I just stood on the fringes of the blanket, slightly inebriated at the sight of Grant and his co-star, Ann Sheridan.
At Mt. Vernon High School outside of Washington, the dream was still alive, but because Mother had too many commitments in Arlington to pick me up after rehearsals, I was unable to join my school's drama club nicknamed, "The Virginia Hams." Despite my "betrayal" of the stage, I was sure the local Tivoli Theater was a semordnilapic message intended for me that I alone had deciphered.
At Columbus College and Auburn, I gathered props and helped build sets before winning my first role in an off-stage mob shouting, "Rhubarb, rhubarb…!" I finally appeared on stage as a chorus member in a production of Euripides' Hippolytus. The school critics thought I'd made a creditable Horatio in Hamlet but, in Twelfth Night, they were expecting Alec Guinness and met instead an uncured ham. One night, after a friend carelessly wished me good luck in my portrayal of Shakespeare's Sir Andrew Aguecheek, I "broke a leg." After tripping over my high heels, the plastic "ruby," once glued in my navel, skittered loudly across the stage. As I bent over to retrieve it, I missed my cue and ripped my yellow pantaloons. The audience laughed to see such sport, and the critics ate my lunch with a spoon.
As my dream of an acting career faded, I read that Cary Grant had been born Archibald Leach to a mentally ill mother and a man who had her institutionalized without his son's knowledge. Said Leach in a painful interview, "Sometimes, I wish I were Cary Grant." Leach's four divorced wives may have harbored the same wish for their erstwhile husband.
In graduate school at Auburn and USC-South, I didn't set foot on a stage for three years but, after taking a teaching job at Clemson, I discovered I had some free time. With two small children and four classes to teach, I really didn't have time, but I made it when Burt Lancaster and the cast of The Midnight Man came to town. Hearing that the cast was staying on campus, my wife and I went to supper at the school's hotel hoping to glimpse some of the stars. By chance, I followed Lancaster through the cafeteria line and was served a slice of ham that had once lodged beside the star's.
As a college instructor, I took small roles in Gilbert and Sullivan's Patience and Ketti Frings' adaptation of Look Homeward, Angel, but the demands of fatherhood, teaching, committee work, and publication forced me into early retirement from the boards. Enduring the late, long, and often tedious rehearsals, I lost what remained of my appetite for the stage on the "stage" where Angel was performed. At the time, the best the university could offer the Clemson Little Theater was an auditorium designed for meat-cutting classes in the School of Agriculture, where the blood drains were covered with plywood, and the lights were hung from meat hooks.
Shortly after I finished my degree in English, a colleague decided that Clemson needed an interdisciplinary Humanities program, and he asked me to join the team. Prior to offering these survey classes, which featured a number of dramas, oratorios, ballets, and operas, Dr. Jack McLaughlin invited several experienced interdisciplinarians to present public lectures and answer the team's questions. One professor, who taught "the physics of music," alluded to what he said was the "Oilbrookdale fade-out theatre." This mid-nineteenth-century structure, one of several in Great Britain, was a cast-iron sphere that seated 450 people plus a small orchestra. When the air-intake aperture was narrowed, or when other gases were mixed with fresh air, all sorts of interesting musical effects were produced. But when rats, hungry for the ham-fat sealant, jammed themselves in the air intake, everyone inside the sphere suffocated.
During three years of graduate study, how had I missed a theatrical tragedy of such magnitude and preposterousness? I contacted, therefore, the lecturer and asked him about his sources. He reported that his sole source was a recent issue of the respected British periodical New Scientist. A letter to the editor, however, soon revealed that the "fade-out theatre" was a hoax. Thereafter, I concluded that the "research" which led to this revelation was more satisfying than most of what I'd done on the stage. Moreover, if I ripped my pants, I didn't have to read about it in the morning paper.
Happily ensconced at Clemson as a creative writer and scholarly generalist, I led our two children to the school's outdoor theater as often as they would follow their ham-loving piper. Here we improvised productions of "Hansel and Gretel," "Little Red Riding Hood," and others. It wasn't exactly John Barrymore's Hamlet or even Richard Burton's reading from a phone book, but the children and their friends loved it. Eventually, our son would take several acting roles in college theater productions; our granddaughter would play Molly in Annie, and I may still leave my skull to the Clemson Players for the role of Yorick.

While the European Renaissance theater may have helped to spread the plague, the theater did not cause it. While it's true that some 19th-century theaters doubled as houses of prostitution, they caused no vice that I'm aware of. And while the theater is literature for those unwilling or unable to read, it didn't cause that failure. For actors, however, the truth is that nothing expands and strengthens their empathetic powers like assuming the persona of another. I'm confident that if I love my neighbors or just tolerate them, it is a partial result of my brief life on the stage.
To order copies of Skip Eisiminger's Letters to the Grandchildren (Clemson University Digital Press), click on the book cover below or contact: Center for Electronic and Digital Publishing, Strode Tower, Box 340522, Clemson SC 29634-0522.