"He hopped a freight train one day, unannounced, and hoboed his way across the country. Reaching the end of the line in New Mexico, he spent the next year and a half as a working cowboy. He made no contact with his family back home until he was ready to return and, when he returned, it was to join the army to go to France in the First World War."—William A. Balk, Jr.
Epicurus' Porch
By William A. Balk, Jr.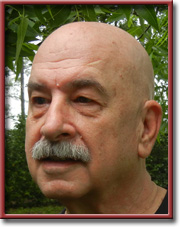 Editor's Note: In its first incarnation, this essay appeared here on July 15, 2013.
BEAUFORT South Carolina—(Weekly Hubris)—January 2019—Jean-Marie had been promoted to the Washington, DC, bureau for French national television from his reporter role back in Auvergne. We met sitting at a Spanish bar on P Street, and I quickly learned he shared my yearning for our similar rural roots. Lacking a comfortable command of English, Jean-Marie felt isolated and alone, and he found it difficult to make friends and develop a social life even in a cosmopolitan city such as Washington. Our shared appreciation for rolling countryside and people who were close to the land made conversation and, eventually, friendship relatively easy.
It was after a few weeks, a few beers at the bar, and nostalgic reflection upon the exquisite pleasures of a ham cured on the land it came from and the sweet reward of preserves made from fruit picked in one's yard that Jean-Marie suddenly invited me to un petit diner chez lui.
It was a simple meal, well prepared, served plainly and without pretense. Only later, when I learned he had had no visitors at all to his small Georgetown apartment during his entire stay in the city, I realized how significant the meal—and the invitation—had in fact been.
Now, the wine had done its job, and our conversation ranged to the more personal. I found myself talking about languid days in the "Low Country" of South Carolina, about missing my garden and the farmland where I grew up. Jean-Marie described growing up on his family's smallholding, an ancient stone farmhouse in Normandy with old orchards enclosed within stone walls. He clearly missed being there.
There was a pause in our conversation. With a start, Jean-Marie leapt up, crossed the humble flat to an old locked cabinet. He searched about for a key, fumbling, whispering about sharing something he'd never shared before. Eventually, the key appeared, the cabinet was unlocked, and he reached in to retrieve a plain, stoneware vessel, clearly old, stoppered with a sturdy, rough cork. A wax residue clung where it had once sealed the jug.
Reverently, he returned with the bottle and two glasses, small unmatched tumblers. He sat back down at the table, carefully placing the crockery flask between us. "This is from my family's farm. From the orchard. Do you know Calvados?" I did indeed know Calvados. "My grandfather made this. It is the last of his eau-de-vie de pomme, the last jug, and I very rarely open this. When this is gone, there will be no more of this. Will you take a glass with me?"
For a moment, the two of us were in an apple orchard, geese honking their displeasure at our intrusion, the air perfumed with fruit fallen in the high grass. Jean-Marie, surrounded by his ancestors' spirits and their ancient stone walls, was gathering eggs, mending fences, scything hay. I found myself, in a moment, back in South Carolina, clearing out a new section for strawberries, gathering pears, turning compost.
It was only for a moment. Reverie soon faded to reality; the strange powers attributed to Calvados had been confirmed, and the magic of this particular distillation had run its course. Our friendship had been confirmed, sealed. We each had jobs to do in the city, work each of us loved and performed with pleasure. But our urban lives were shadowed by furrows still unplowed back home, harvests left unpicked, fields left fallow. So much undone.
Eventually, Jean-Marie returned to France, though not to the farm in Normandy. My own time in Washington ended with my return to the South Carolina Low Country, to aging parents; and to the family, the history, and the geography which had defined me from before birth.
My grandfather, unlike Jean-Marie's, never made his own eau-de-vie, although there are stories of a large batch of home-brewed beer exploding, bottle by bottle, as the Presbyterian minister called to visit during Prohibition.
Lacking a still, my grandfather instead developed friendships with gentlemen of far greater expertise, gentlemen whose places of work required of visitors long drives down dark dirt roads in the dank swamps of the Savannah River.
One of these experts had refined his processing to such a degree that my grandfather annually bought from him a full barrel—oak, charred on the interior—to mature for eventual consumption, shared with other men like him, of a class who knew whereof they drank.
This was corn whiskey, "white lightning" when distilled by lesser artisans, of a grade sufficient to compete in smoothness with the fine labelled bourbon made, legally and famously, by my grandfather's cousins up in Virginia.
This grandfather, who had been born in the last decade of the 19th century, was possessed of an independent spirit. His parents, successful and respectable in Augusta, Georgia, had certain expectations for their children. In his teens, however, the young man decided to escape the bounds imposed by his family; he hopped a freight train one day, unannounced, and hoboed his way across the country. Reaching the end of the line in New Mexico, he spent the next year and a half as a working cowboy. He made no contact with his family back home until he was ready to return and, when he returned, it was to join the army to go to France in the First World War.
He spoke little of either time in his early life. His recovering from wounds suffered in the war introduced him to the nurse who would become my grandmother. And many, many times I saw lone men, clearly down on their luck, quietly knock on his back door to ask if there was any work they could do for a little food. They were never turned away. It was only many years later that I learned of his own knocking at back doors during those days heading west.
He was a man of surpassing kindness, my grandfather. I have been told by my father, however, that he was also a man not to be underestimated. There was no artifice in his gentlemanly mien; his gentle concern for people and animals was obvious and real. But a poor car salesman had no chance against him. My father was with him when my grandfather went to buy a new car. He and the salesman negotiated and argued and debated and negotiated some more. At every turn, the price got lower and lower. When the deal was finally struck with a handshake, my father said the salesman was white as a sheet, sweating, and on the verge of tears. My grandfather was grinning.
My grandparents are buried near the graves of generations who came before them, on The Hill in Augusta. I've come to enjoy quiet visits to their graves, and I learn a great deal from my walks around the nearly two-century-old burial ground. These sacred resting places seem to carry more meaning for me, more relevance, as I know more and more people who are buried here. The old family farmstead itself has its own burial ground, as does the neighboring old home-place across the road.
These are special places. They provide quiet respite from daily demands, walkways for reflection; birds and other wildlife share the space with the unseeing residents and visitors; succinct summations of a life—both more poignant and more terse than Twitter could encompass—come with the pace of a stroll among the stones.
In the not too distant future, we will bury my mother in one of these plots, adjacent my father and his siblings and parents and grandparents and their siblings. My own burial site is to be determined; I'm uncertain there will actually be one, as I have come to understand that even at my life's end there will still be unfinished furrows, unpicked harvests, fields left fallow. I do think, however, one ritual of burial would be appropriate. I think I'd like for the few who gather together then to open a good bottle, drink a toast, and pour the remainder over my grave. I will insist on—perhaps even provide—a great Calvados, or a fine, and even rarer, aged corn whiskey. For the old-timers, you know.