June Bugs
"After five years of mourning the loss of Clifford Brown, our sweet Chocolate Lab, Haydn and I decided it was time for another dog. We ordered a Black and Tan Coonhound from a breeder, though we would have to wait for her to be born."—By Meredith d'Ambrosio
The Disappearing Land
By Meredith d'Ambrosio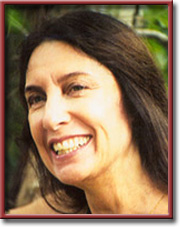 DUXBURY Massachusetts—(Weekly Hubris)—6/16/2014—After five years of mourning the loss of Clifford Brown, our sweet Chocolate Lab, Haydn and I decided it was time for another dog. We ordered a Black and Tan Coonhound from a breeder, though we would have to wait for her to be born. During that time, Haydn's health was failing. Unfortunately, he passed away two months before our puppy's arrival from Iowa. Gypsy was delivered by car to our home in Ft. Lauderdale. That trip took two and a half days. My heart melted when I held her for the first time. She seemed a little frightened and was probably thinking, "Who is this strange person who has the nerve to bury her face in mine?" She was just over six weeks old—a tiny ball of black velvet with golden-tan markings. When she carried a toy around, she would strut with her head held high, ears almost scraping the floor, looking as regal as if she were a duchess (but more like a king). A small crescent moon may be seen on her chest, which explains her name, Gypsy Moon. She's four months old in my painting but, in fact, four years old now and still strutting proudly: she is the funniest dog I've ever known. There's no doubt that she's here to protect me. Watching her takes my breath away.
Almost daily, Clifford Brown (named for the famed jazz trumpet player) and I would walk to the foot of Daniels Island, take a left and go over the bridge onto the adjacent island, where we would travel the length of Popponesset Island. I was fascinated by the unruly rose arbor at the end. One day, I attempted to walk through it, but it was impassable. Thalia, the arbor's owner, confessed that she had never bothered pruning it. One late afternoon just before sunset, I was carried away by the long shadows, and sat on the ground in front of the post fence to capture this little piece of heaven.
Beyond the breakers, and umbrella, is the head of Popponesset Beach. But before the umbrella is the beginning of Popponesset Spit. The water on the left of the sand is Nantucket Sound, which is really the Atlantic Ocean. It would take two hours to reach Nantucket Island by ferry. Haydn, Clifford Brown, and I would sail to the spit, beach the boat, and often walk around the whole spit and continue from the Nantucket Sound side to the channel and around to the Popponesset Bay side of the spit, where we would climb into the daysailer to sail back to our cottage on Daniels Island (that is, if my attention were not diverted by certain areas of the bay where I would dig for cherrystones at low tide). Haydn, who loved to sail, would take the boat and the dog out for one last sail around the bay, while I continued digging for clams, and then beach the boat again to wait for me. Eventually, I would find my way back to the boat, dinner in hand (or in hat).

Note: Meredith d'Ambrosio's exhibition of paintings entitled "Landscapes Of The North Countries" will run from Sunday, November 15, 2015 through Sunday, February 14, 2016 at the Art Complex of Duxbury, Massachusetts, 189 Alden Street, Duxbury Massachusetts; daily opening times, 1 till 4 p.m., Wednesday through Sunday; Monday and Tuesday, closed. The opening reception will be held on Sunday, November 15, 2015, 1:30 to 3:30 p.m.; Ms. d'Ambrosio will give a concert, accompanied by Chris Taylor on piano.