"'It has to go all the way to the beginning!' Holding her hand, I asked (carefully, because questions would arouse consternation) if she wanted me to tell her who she is and how she got here now. 'Yes!'"—William A. Balk, Jr.
Epicurus' Porch
By William A. Balk, Jr.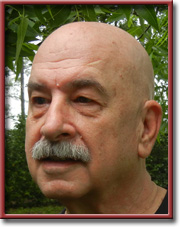 ELKO South Carolina—(Weekly Hubris)—February 2018—"I can't understand! Start at the beginning! I can't understand a thing that's going on!" We were in the middle of watching one of the evening news programs on television, my 93-year-old mother and I.
She has stoically faced the growing effects of dementia over the last several years, and other physical ailments have brought her to being bed-bound for the last year. It is not unusual that events as portrayed on television leave her desperately confused and asking for explanation.
As her caregiver, I usually attempt to summarize the baffling news story for her. The point at which I start is simply to concur with the accuracy of her observation—the story makes absolutely no sense at all to me, either, and I find that an honest response is best. The rest is simply to describe the high points of the story, and that usually suffices.
"No! That's not it . . . you have to go back, back to the beginning!"
Maybe a little more background—so I begin again with more details.
"No! No, no, no! Before! I can't understand a thing!" She was really distraught, and my efforts, usually sufficient, were way off the mark. I turned off the television, sat close to her, holding her hand, and tried to guess what I was missing.
Hers was, I realized, suffering more deep than a confusing news story should evoke. I also knew that her dementia sometimes leaves her utterly abandoned, alone, with no ability at all to recognize anything around her, to make the most obvious connections among people, objects, herself, her condition. A few gentle questions, her clear answers of dismay, and I recognized that she had suddenly found herself with no knowledge of who she herself was, who I was, where she was, how she had gotten wherever "this" was.
This was not the first time, certainly, she had so completely lost identity and connection to the world. Years before, when we knew we would some day likely have to face the depredations of memory loss, dementia, Alzheimer's, I started to prepare us all for ways that might help when the time came. Now there were times when she could not identify us and, as now, she could make absolutely no sense at all of herself, her surroundings, her time. One benefit of the years of preparation for this eventuality has been that she still trusts us to help her through this maelstrom; she still has confidence that we will at least be able to comfort her, even though she does not know specifically who we around her are.
"It has to go all the way to the beginning!"
Holding her hand, I asked (carefully, because questions would arouse consternation) if she wanted me to tell her who she is and how she got here now. "Yes!"
That's just what I did, then. I told her about her parents, about where she grew up, about falling in love, about marrying, about marrying again, about her children, one by one. I described where the family lived, about her raising her children to love reading and learning, about becoming a school teacher, about being celebrated in her community. I told her about my father's illness and dying; about my brother's death, about how she has her whole family still around her, all looking after her, all loving her. I asked if that's what she wanted me to tell her about, even though I knew that her perforated brain can no longer hold on to these connections, to such a story.
She was still clearly agitated, but greatly reassured. "No. Is that all? I still don't know what it all means!"
Nor do I, I thought; nor do I.
Calmed, but anxious still, she waited for me to try again.
And, once again, I started at the beginning. I added some details omitted the first time. When I described her having children, I dared to ask a question: "Do you know who the very first child you brought into the world was?" And it was with real joy that I could tell her, "It was me!" For the first time that night, she managed a smile.
There is an obvious joke buried in there somewhere: a septuagenarian baldly claiming to be the nonagenarian's baby.
Whether she was smiling at the joke, or with a sense of matching up some difficult concepts for the first time, the smile was a breakthrough.
The story of her life this time seemed to fit into something recognizable, something she could claim as her own, even if its evanescence denied her claim to it as memory. Her inept synapses may deprive her of any lasting, continuous narrative of all that has transpired, either in her life or in an evening's conversation, but it is certain that it has made a memory I, myself, will hold onto until the cerebral perforations and broken synapses wipe out my own connection to this world.
And who will hold my hand and tell me my story?