"It's as if our home yearns to satisfy us, although lately dinner's been perfunctory and the dusting lackluster. In this, we sense our home's human ambition, its human distraction. Tonight, we will loan it our bad dreams; maybe then it will seek comfort in folding and putting away, in wiping clean the patio doors, in sharpening the chainsaw blades. Maybe then it will be satisfied."—Veronica Schuder
Speculative Friction
By Claire Bateman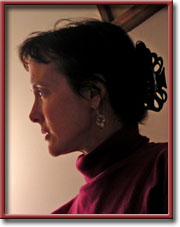 GREENVILLE South Carolina—(Weekly Hubris)—May 2018—Veronica Schuder teaches composition, literature, and creative writing at Louisiana Tech University in Ruston, Louisiana. She earned an MFA from the University of Arkansas-Fayetteville, where she studied contemporary poetry under Miller Williams. She has published poetry in various print and online magazines, including "SoFloPoJo," "The Laurel Review," "The Florida Review," "War, Literature, and the Arts," and "The New Ohio Review." Her poetry often attempts to reconcile the conflicting states of female identity within the traditions of the American family, and reveals equally conflicting influences: American formalism, French and American Symbolism, and the lyrical contents of contemporary pop music. She lives in Monroe, Louisiana with her husband, son, stepson, two dogs, and a great many problematic squirrels.

Postcard Poems
By Veronica Schuder
Postcards are highly impersonal artifacts; you write them almost as a way of showing off where you've been (somewhere fundamentally more exciting than home)—so it can be ironic to write postcards from the place you are every day in the way you would normally write about a vacation—that abstract distant "Wish you were here" kind of language that's both sincere and distracted.
As I got into this project though, I realized writing these allowed me to talk about my world more personally and sincerely and even truthfully than I do in the more idealized world of a poem I treat as a Poem. Since you never expect to get an answer to a postcard—you send one off and don't find out if it got where it was going until one day you're in a friend's kitchen and there it is, stuck on the fridge with a magnet—in a way these are like diary entries, truthful yet truncated and weirdly public.
Finally, I got to make fun of the things I usually take too seriously (termites, an infestation of rats) and could also tackle topics I usually avoid, like my mother's battle with Alzheimer's, the troubles in my marriage, and the wars from which we can't (or won't) disengage, topics I wouldn't normally talk about so directly in a poem, or not one I intended to show to anyone.
1.
Today we took inventory of the many types of screws that hold us together. In the pattern of light and shadow I walked through walking in and out of the barn, you walked again still. The tomatoes that gave up their scent as the hot sun caressed them were yours, and the green, clinging hook of worm. I see you in mirrors, but not when I turn. I see you in the snapdragons and bougainvillea and moss rose that burn under strokes of light. The summer heat scatters you like a dropped jar of nails and even rain that falls resembles the music falling out of your hands. It's very hot here, and when evening takes the day, it's a curtain pulled shut, a veil, and there's no pushing it aside.
2.
So many individual processes happen at the same time in our home. It's as if our home anticipates the satisfaction we will feel once it's vacuumed the plants and suctioned the drains. Every night, our home turns off the daytime lighting, selects and cues an evening playlist, and begins gently massaging the pool's skin. It's as if our home yearns to satisfy us, although lately dinner's been perfunctory and the dusting lackluster. In this, we sense our home's human ambition, its human distraction. Tonight, we will loan it our bad dreams; maybe then it will seek comfort in folding and putting away, in wiping clean the patio doors, in sharpening the chainsaw blades. Maybe then it will be satisfied.
3.
Can we at least agree that perfection should be enough? What else does our home want from us? Maybe all our gestures toward peace are insignificant compared to the abstract purity of the HVAC's hum and buzz of the subzero fridge. That certainly seems to be the narrative. We begin to wonder if there's more than love. A clown drops some eggs to prove the transcendence of brokenness? And this is an imperfect metaphor? We get it. Our home yearns for variation. But can't the juggler exchange knives for scarves? Things don't have to fall apart to be made new. Crushed ice isn't always better than cubes.
4.
None of the clocks in my home show the same time. This is emotionally irresponsible, I know, and leads to a complicated narrative flexibility: in here, it's 1:03, but in the kitchen, it's 12:54? Why can't things be simple? Moving back and forth in time adds to the already heavy weight of Now, where it's already hard to live. Imagining that plate of enchiladas, still perfect and uneaten, sitting on the counter waiting for the fork. Isn't it worse, knowing you already ate?
5.
Our home lives in a country that is always preparing for war. I wash my son's clothes to prepare him for war. I drive to the grocery to prepare it for war. I cut my husband's beautiful hair to prepare him for war. I walk my dogs around the neighborhood to prepare them for war. The trees around our home put on the white coats of war. Our home trembles with the excitement it feels while feeling afraid, which doesn't blunt the edge of its affection, not even as the sun finally collapses from its shining.
6.
Guess what! I just bought a pink sports bra the same shade as Madonna's outfit in the "Material Girl" video. The 1980s were so neon and fabulous, full of quirky cool people like Madonna, and like Elvis Costello, whose spaghetti legs still drive me crazy with joy. Today it's hard to trust, but in the 80s we tried so hard to believe. We believed Reagan's amazing tan, caused by an actual 80's sun, a sun that you believed you too could experience by opening your door and walking to your totally believable although somewhat boxy 80s Toyota while eating your perfectly believable frozen yogurt sticks after engaging in some sweaty yet believable Jazzercise. It was truly a time of marvels, and beliefs.
7.
Today our home smells of cooking, but I have lost all interest in food. Eating—the idea fills me with disgust. I don't understand nutrition—shouldn't it be like colors? Important but not crucial to survival? Our home lights the stove with fluorescence, but not in a judge-y way. It likes everyone happy to work, maybe wearing a jaunty little cap; it prioritizes, compartmentalizes. If I better understood where I belong, if I could be alphabetized, if I could believe more convincingly in what I am doing, if I could keep my left hand separate from my right, maybe then I would stop burning everything.
8.
Today, not a single noise registers: the furnace bleats its waves of heat, the doors cry out their opening, closing, the floor murmurs its discontent, the curtains wave hello-goodbye, but none of it penetrates. Even the moon shining silently through the window of our home can only be heard when it doesn't answer any questions. Bun says he can't even hear me blinking.
9.
It should be clear our home is our castle. It's a pretty small castle, without towers or those cute triangular flags. We need to replace some of the wooden siding, so we went to the park and cut down a tree. Now we have a log but don't know what to do with it. These sorts of problems make home ownership extremely stressful. Is this how things go for you, too, sometimes?

To order copies of Claire Bateman's books Scape or Coronolgy from Amazon, click on the book covers below.