On The Other Hand

By Anita Sullivan
"Archaeologists, anthropologists, and other social scientists have known for quite some time that many 'pagan' folk religions, with their accompanying stories and songs, never completely died out, but simply went underground in a variety of ways. If you know how and where to look for evidence, you can find a huge variety of damaged fragments of the original animism that once covered most of the earth. This could be thought of as highly valuable patches of pristine cultural wilderness. We can use them as standards for our own spiritual 'rewilding.'"—By Anita Sullivan
"I am contented, for I know that Quiet/wanders laughing and eating her wild heart/among pigeons and bees."—William Butler Yeats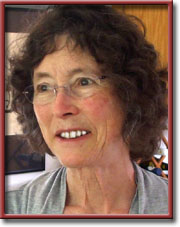 EUGENE Oregon—(Weekly Hubris)—December 19, 2016—There is a term ecologists use to describe one of their land-conservation strategies: "rewilding."
For the lay person, the word means pretty much what it says: a plan for systematically re-introducing plant and animal species that would have been native to a land area at a much earlier time (before humans, ideally), but that have been crowded out by newer ones that humans brought along when they moved into the area.
As a poet, I want this word. Rewilding is a lovely, poetic idea, and I would like to commandeer it, with its riddlic fire, for immediate emergency application to contemporary Christianity, especially to "the God question."
Poetry and religion share a common spiritual wellspring; it has always been in the interest of each for the other to thrive. But for centuries now, poets have been wary about expressing their religious passions in poems, lest they be misinterpreted as preaching. There is a porous net dividing words used as rhetoric, and (sometimes the same exact) words as a way to expand the imagination.
Over the past few years, a number of contemporary American poets have begun quite openly making rents in this invisible border by the use of religious vocabulary and spiritual insights in their work. Some of the results are quite wonderful. I have been keeping a list of these wise ones who are willing to go straight to the well of origin, bypassing the plastic hoses the well is regularly siphoned off into.
Once again, poetry is opening itself to potentially risky cross-pollination: this time it's rewilding itself with religion.
Christianity, on the other hand, seems insistent upon narrowing its definition of itself to the point that it risks drying up altogether.
I was brought up Catholic, and though I left the Church many years ago, I never lost my curiosity about religion, and by extension—mythology, literature, anthropology, art history, archaeology, philosophy, folklore—all disciplines that deal with how people envision themselves and their world.
Archaeologists, anthropologists, and other social scientists have known for quite some time that many "pagan" folk religions, with their accompanying stories and songs, never completely died out, but simply went underground in a variety of ways. If you know how and where to look for evidence, you can find a huge variety of damaged fragments of the original animism that once covered most of the earth. This could be thought of as highly valuable patches of pristine cultural wilderness. We can use them as standards for our own spiritual rewilding.
People are like plants: they keep their survival options open by employing a huge variety of basic strategies for getting through life as well as possible. Religion is simply one of these almost infinitely-variable strategies. Thus, I have been perpetually vexed by my own childhood religion's fixation on monotheism.
It took me about 30 years to decide, for example, how to deal with the matter of which category: believer, agnostic, or atheist? "None of the Above" has never been, and is not now, considered an option. Here's a story to help with that dilemma:
I've been arrested by the Thought Police in a fundamentalist dictatorship. Holding a knife to my throat, the Thug-in-Charge snarls, "Die, Atheist Pig!"
"But, Sir [Madam], I am not an atheist," I reply.
Puzzled, the Thug consults his phone: "You're lying! It says right here on the form you don't believe in God!"
"Yes, it's true I don't believe in God. But I'm not an atheist either, because that would mean I agree that the existence of God is the central defining religious question. And it most definitely is not. I don't even know what the word 'God' means, so I surely can't say anything about his (her) existence and, what's more, I'm not really interested." 
At this point the Thug in my story would roll his eyes, thrust his knife into his belt (the quality of his mercy not being strained), and toss me onto the wrong pile. The third one, for agnostics.
I might have shouted, "And I'm not an agnostic either!" but the story stops here. Monotheistically speaking, there are really only two piles to toss people onto: the atheists and the believers.
Such a duality insults us all. To begin with, it shows a crass indifference to the first 100,000 years or so of human history, when our ancestors lived in small groups, mostly outdoors, foraging and hunting in what we now call "the natural world." Monotheism doesn't seem to have occurred to them nor, apparently, did the creation question govern their most urgent spiritual daily thoughts and activities. Yet they led lives that included a healthy variety of spiritual practices, rituals and beliefs that resulted from the specific environments they spent centuries immersed in. In short, they had "wild" religion.
But what has recently brought the vexing God-or-not-God question once again to my attention comes from articles, essays and, especially, book reviews. Within the past few years, I have come across book after book purporting to be a new look at some aspect of Christianity and, inevitably, these books turn out to be firmly grounded in the old theology: believers vs. atheists. Examples from the atheist side would be Richard Dawkins (The God Delusion) and, more recently, Alex Rosenberg (The Atheist's Guide to Reality); while on the believer side clusters a host of earnest clerics and scholars such as John Cottingham (Why Believe?), Alvin Plantinga (Where the Conflict Really Lies),  C. Stephen Evans (Natural Signs and Knowledge of God), Mark Johnston (Saving God), and Paul K. Moser (The Evidence for God).
Every week I scan book reviews, essays, and other references hoping to find someone who will say, "Hey, this God question we've been asking—it's a red herring! Here are all the real questions we used to keep asking ourselves so very long ago . . . ." Instead, I keep finding nothing but the Two Sides.
They line up something like this:
If you are a believer in one God (the option of polytheism is never mentioned), and follow some version of a hierarchical, faith-based religion, you're on the side that is both permitted and assumed to enjoy—in certain carefully rationed and scrutinized portions—faith, intuition, emotional depth, metaphor, dreams, divination, visions, mystery, and sudden blinding irrational insights that might lead to art.
If you are an atheist, your exclusive and proprietary stash includes all of science, mathematics, reason, clarity of thought, accuracy, numbers, empiricism, common sense, and the assumption that all talk of "spirits" or "spirituality" is superstition, a pesky holdover from earlier, more primitive times, from which science and technology have offered us, finally, welcome relief. Artistic abilities will be assumed to be a measurable product of brain chemistry.
There is nothing real in the argument; it leaves us trussed up inside a desiccated world where words have moved in to substitute for experience. And experience, I would argue, is basically wordless. You don't need to argue about what you know, because it's part of the part of you that you take with you everywhere you go. Like a wombat does, or a baobab tree.
As a poet, I would like to suggest an alternative approach, and call it rewilding religion.
Poetry, as a kind of storehouse for the human imagination, has never lost its recessive capacity for all manner of essential foolishness. That is to say, poetry has always kept its wild heart intact. For poets, rewilding could be a name for the necessary daily discipline we must carry out to keep our work alive and fresh. Each poet has a specific version of this practice, this touching of the forehead to the ground from whence comes all life.
Among other aspects of their calling, poets have always carried forward a kind of Original Animism that in more recent centuries has grown branches like surrealism, fantasy, and magic. Now we seem to be in the process of adding contemporary Christianity to the mix. The poets are rewilding religion instead of the theologians, you might say.
I would like to suggest that religion could take a look at what certain poets are doing—and go and do likewise.

Note: The image of the Thai Spirit House derives from http://canvas-of-light.blogspot.com/2010/07/thai-spirits-hdr.html.

To order Anita Sullivan's books, Ever After and/or And if the Dead Do Dream, click on the book covers below.