"Write what you know, my first teachers suggested. But I have never been a big fan of reality. Reality feels like sandpaper on my skin. Sometimes I think I would love to escape the everyday world, and just move into the imagination forever."—Nin Andrews
Speculative Friction
By Claire Bateman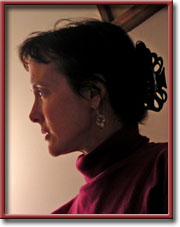 GREENVILLE South Carolina—(Weekly Hubris)—November 2017—In a 2008 interview with Nin Andrews, Writer's Digest's Robert Lee Brewer draws out a marvelous answer from her about a shift in her writing style, when she moved from a focus on the surreal to story-telling: "I tend to do the opposite of what I am told. Write what you know, my first teachers suggested. But I have never been a big fan of reality. Reality feels like sandpaper on my skin. Sometimes I think I would love to escape the everyday world, and just move into the imagination forever. Music, philosophy, dance, poetry, painting—they all help me do just that. Like good drugs, they offer an alternative to reality. So initially I tried not to write my personal story.
"But then, at a certain point, I started thinking about my childhood, and my children used to ask me about my past. And I would tell them stories. Stories about the time the one-armed man who worked on our farm shot a rabid fox. About the time the same man got drunk and let the heifers run loose on the freeway. About this crazy lady who came to the farm and taught me to see ghosts and read palms. Or about a man called Toby who would walk up the dirt road on bare feet some days, and then go down to the mud pond to catch snapping turtles. He said he caught them by feeling in the mud with his toes.
"My children wanted me to tell these stories again and again, especially when I imitated the voices of the farmhands, my father, my mother, the crazy people, and the different animals and so on. They said I should write them down. But it's not easy for me to write about the farm. It's a bit like trying to break an ocean into drops. And of course, I don't have an ability to see these pieces objectively."
Nin Andrews' poems have appeared in many literary journals and anthologies including Ploughshares, Agni, The Paris Review, and four editions of Best American Poetry. The author of seven chapbooks and seven full-length poetry collections, she has won two Ohio individual artist grants, the Pearl Chapbook Contest, the Kent State University chapbook contest, the Gerald Cable Poetry Award, and the Ohioana 2016 Award for poetry. She is also the editor of a book of translations of the Belgian poet, Henri Michaux, called Someone Wants to Steal My Name. Her book, Miss August, was published by CavanKerry Press in 2017.

"The Artichoke"
By Nin Andrews
The first time I saw it, I thought what an ugly specimen. It looked like Grandma's bathing cap, grown green and small after all these years. I sliced it open and tasted the pale flesh. And gradually she offered herself up leaf by leaf. In her depth she held a tiny, faded star, a spark that fell in the meteor shower over Frank's garden. I developed a taste for her expensive style: fancy restaurants, wines by candlelight. Sometimes we stayed inside and read by firelight, drinking the leftover melted butter, wiping the grease on shirt sleeves. I introduced her to friends. She had the heart of a Buddha. Green leaves of flame. Everyone adored her, and she was irresistible. Nightly I grasped her like a seashell and listened to the nothing philosophers spend lifetimes writing about. I became accustomed to the look of a chilled vegetable, kept in the icebox all day. Then one evening there were no leftovers. I went to the grocery store. The sales clerk said artichokes are out of season. This is not San Diego. Still I dreamt of her, dipped in lemony butter, scraped carefully with teeth and sucked, the pale cream of flesh, the tender flower, her skirt held up like a cup, each sip bringing me closer to the moon, the vegetable pearl of her insides where the heart fans out fibrous hairs and waits a last mouthful on her green world.

"The Artichoke" first appeared in the Fall 1991 issue of The Paris Review.

To order copies of Claire Bateman's books Scape or Coronolgy from Amazon, click on the book covers below.