"My heart did not break for three decades and then it did and I began to see things from inside out / and the outside lost sheen and dust / Interior worlds, my own hands, tight skin stretched over other tissues, cellular hooks, latticework / hollow wires pulsing cells through carrying pieces of sun to enliven the lifeline on my palm, read by a / girl when I was fourteen pretending to be a gypsy or psychic as a romantic fraud . . . ."—Eric Simpson
Speculative Friction
By Claire Bateman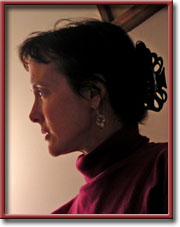 GREENVILLE South Carolina—(Weekly Hubris)—October 2018—Eric Simpson has lived in Berkeley, Kansas City, St. Louis, Lawrence, KS, and numerous other places, but returned to his roots in southern Oregon in 2009, where he now resides. He is the recipient of the Art Kreisman Award for Creative Writing from the Oregon Center for the Arts at Southern Oregon University (June 4, 2015). His writing has appeared in The Huffington Post, In Communion, St. Katherine Review and other publications.

My Heart Did Not Break
By Eric Simpson
My heart did not break for three decades and then it did and I began to see things from inside out,
and the outside lost sheen and dust
Interior worlds, my own hands, tight skin stretched over other tissues, cellular hooks, latticework, hollow wires pulsing cells through carrying pieces of sun to enliven the lifeline on my palm, read by a girl when I was fourteen pretending to be a gypsy or psychic as a romantic fraud for the mutual benefit and promise implicit in the slightest impact of skin on skin, her index finger tracing the spine of my hand, sending chills of pleasure through my entire body, warmth broadening up through my gut to radiate
My heart did not break for three decades and then in its ruins a fire spread devouring structures as it burned I found pleasure in nothing, descending into hell I went softly and shoeless and sliding joylessly in my white socks
My heart did not break for three decades and in hell I tasted my own flesh and ate beetles, anger, sadness, desire, love, swallowing longing and cheapness and fox and monkey and lowness and every high place, drinking my own dehydrated
My heart did not break and then I saw the props of who I am and the constructs that put them up, and people sharpened in clarity and lost contrast, and I felt grief for the first time and mourned and in mourning found that
My heart shattered and in its desolation a fire burned hard and fierce and scorched my entire body so that I gasped and could not breath and there was no pleasure in anything and I could feel the presence of my own bones and it wasn't until later that I knew the fire as energy, the engine that
My heart did not break for thirty years and when it did I closed my hand into a fist and slowly opened it again finger by finger so I could see again the smoothness of my palm, its unique lifeline and shark fin
My heart became a fist with its own fingers that could reach out and touch things.
My heart did not break for three decades and then it did and I entered the world.
The engine of fear blurs billboards and bleeds digital ink into the wounds of those it has injured.
Birds peck at the eyeballs of the avid who find meaning in the passion of obsession.
My dark spark of play is dismembered among the wolves that stalk for weakness.
Cupid is a thug who uses a dirty blade infected with the plague of advertising.
I looked into her mouth traced with experience and thought of nothing but kissing her.
Love is a fire that scorches the heart, causing us to want to hurry up and put it out.

Apocalypse
By Eric Simpson
I hold in hand a crease released from the material from which it once folded, an autonomous characteristic of a sheet of paper or fabric or aging skin, found floating in the air, the fold between the pages of a book or in a pleat of clothing or in the palm of a hand. It sits unused and unfulfilled, waiting to perhaps provide character to a young girl's mouth, a crinkle at the edges or crow's feet near her eyes, or show wear in a piece of furniture, a leather chair. I hold it tenuously. It lies patiently, yearning for its return to its appropriate place, where it might lengthen or unwind, reproduce or hide some valued thing or change the value of something else. If I let it go I wonder if I'll be able to follow it to see what it is?
◌
I can't escape the feeling that the world is decomposing because I associate my body with the body of the cosmos, my body a continuity of DNA programming passed down through generations that exerts itself in the art of staying alive, making friends and hopefully not enemies, eating, bathing,sleeping, caring for children or failing them in small undetected ways, reading books, walking around wanting coffee, waking up and drinking a glass of water to subdue a morning headache, looking at my reflection in the mirror and remembering. My body has a destiny—fated like an old convenient lover who knows where to touch and what to say and how to make you feel indelible or grained against the sharpness of the air, but who you don't want to marry or be with for more than a few hours because you are to each other nothing, but pleasure comes easily through you—so, the integrated systems of my body will eventually fall apart and move in disparate directions through numerous autonomous processes. The world too, may die, or may have already died, but it continues indefinitely because it's easy and doesn't know anything else.
We have raped the earth, I have read, and I imagine men sticking their penises into gopher holes. The sin of Sodom and Gomorra, according to the prophet Ezekiel, was a lack of hospitality, not putting penises into anuses. I take the bus to another town to sell blood plasma to buy food. I play with my five year old daughter in the evening, and she asks repeatedly that I play Barbie, and tells me what things she wants she has seen on TV. Climate change deniers believe that liberals want to take away their hope. My fingernails grow at a pace of one nanometer per second. Enzymes and bacteria in human shit can be transplanted into people suffering from disease in the gut and make them well. The pinprick of the needle into my arm and the tightening of the band to detract blood cells from my body sometimes makes me feel giddy. Like most parents, I would die for my children, though, relatively speaking, I have not known them very long.
◌
Apocalypse is upon us, the horses flushed and raging as we wash the dishes or leave them to stack up, transmuted beasts burn from the sea ferocious, monstrous and strange-limbed, bringing calamity with heavy-lidded eyes and the mouths of old men, quoting dead philosophers in sonorous tones. My son challenges me to evening bouts of basketball in which I work up a fresh adolescent sweat. Three-headed donkeys with the mouths of children spit up in our driveways and eat our patio decks while we argue fashion, color schemes and obsess on sex, reaching for things we think we want. My daughter kisses me five times on the right cheek and five times on the left. Earth in heat fever, the thermometer shrieks, the end is near! and the whole world dances to the calculus of doom.
◌
In the dark hours my blood carries broken down sun through its varied complex avenues, transporting fire to life's cellular root, and I drink black coffee, energized by the battle outside my senses. Poverty is neutral and not the same thing as not having money, and in the poverty of midnight my hopes lift. Debts and unpaid bills gather to accuse or shame me for another day's wrestling, but once the house sleeps they also grow quiet. Once I smoked cigarettes for weeks until the taste lingered on the back of my gums, igniting the desire for more, so I quit, my habit of three months aborted in an instant. My older sons have grown into their own life's troubles, complexes forming despite a parental wish to untangle them, or unwrinkle the kinks. My children are framed in their beds, my son groaning, processing the previous day, and it occurs to me again as it does every night that sleep only seems to be practicing death, but underneath is as active and potent as waking life.
◌
But don't worry. I'll still burn and break anodyne words for you. The cosmos is made of love and arithmetic, substance and stages, and it wrinkles. Pull my hair! she whispers, and behind her I pull gently just for her. There is a little kink in everything, but the world is made of love.

I Build a Thing and It Never Breaks
By Eric Simpson
Remember your summer jobs, and how they never add up. People are rude and the day is dried. A carcass in the road. The human body can take twenty years in some situations to deteriorate when planted in deep soil, and the rigid flesh softens as it gives itself up to the black ground. The bicycle wheel turns, and in the moment she passes one understands it symbolizes a clock.
This is what one does in reverie, walking distances and counting steps. I build a thing and it never breaks. The noon whistle screams for a full minute, and all the men come off their machinery and unpack lunches. Smoke pulls up from cigarettes and climbs the flag poles. Talk, rough and violent, climbs ladders to wrestle in the air. It may be nineteen sixty, and the children are still born innocent. Wives at home marvel at their appliances, drifting in and out of doorways and on Valium, pausing now in wonder wherefore the fog?
A painting of children wearing hats, riding bikes toward the lake's waves forwarded from the eighteenth century. The woman with the broom waits for them to pass and when they remain, wheels caught in perpetual bliss, her broom quivers, fragments of dust suddenly disturbed. She will steal their bikes and throw them in the ditch. Outside it is raining but the weather changes. A dog in the narrow distance erupts. Any moment, she decides, she will drop the broom and look up

To order copies of Claire Bateman's books Scape or Coronolgy from Amazon, click on the book covers below.