"Indeed, the location wasn't promising, competing for space with dozens of passers-by, including a corsage-bedecked nun (with a beard) and a short-legged dog who posed atop a three-foot pedestal for photographs. Very quickly, a server appeared to take drink orders (priorities!) and, just as quickly, another server stopped to give us the menu and explain the specials: 'Alligator sausage'; 'Catfish in a pecan crust'; 'Crabmeat cheesecake'; and 'Eggs Benedict over Pork Debris.'"—William A. Balk, Jr
Epicurus' Porch
By William A. Balk, Jr.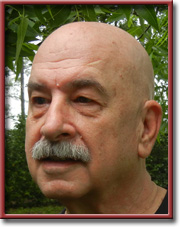 ELKO South Carolina—(Weekly Hubris)—December 2018—Having arrived in New Orleans hours earlier, starved from a pre-dawn flight and forced to ask the hotel doorman to recommend a very close-by place to get breakfast, my colleagues and I were considerably happier now to find ourselves on an evening cruise on the Mississippi River aboard the paddle-wheeler, Natchez: hors d'oeuvres and drinks on all three decks; feeling like I'm inside a Tina Turner song. Touristy as hell, but New Orleans seems to think tourists and locals alike deserve to eat and drink well.
Our start earlier in the day had not seemed so promising. Hotel doormen have not always been the most reliable concierges, and our hotel—on lower Canal Street, as busy and touristy a French Quarter location as the city offers—was a half block away from one place the doorman said, "was supposed to be OK for breakfast." There was another, he said, only two and a half blocks farther, that got good reviews.
It was drizzling; I was limping miserably from various infirmities; and we three were very, very hungry.
We walked a half block in the drizzle, found several tables on the sidewalk under a canopy, and quickly decided further exploration was pointless. "Even if it's bad coffee and a Krispy Kreme donut, let's eat," Judy offered.
Indeed, the location wasn't promising, competing for space with dozens of passers-by, including a corsage-bedecked nun (with a beard) and a short-legged dog who posed atop a three-foot pedestal for photographs. Very quickly, a server appeared to take drink orders (priorities!) and, just as quickly, another server stopped to give us the menu and explain the specials.
 "Alligator sausage." "Catfish in a pecan crust." "Crabmeat cheesecake." "Eggs Benedict over Pork Debris."
Drinks were quickly delivered while we regarded the menu—and the establishment—with a more appreciative eye. We ordered, our plates were soon served simply, and elegantly, the server apologizing for the kitchen having run out of the alligator sausage. 
It was superb, of course; a complete surprise.
The stone ground grits were exquisite; the crabmeat cheesecake superlative (barely a cheesecake, each sliced serving brimming with beautiful crabmeat in a matrix of Cajun cream cheese, tasty vegetables, and sauce meunière). In the middle of our glorious breakfast, the waiter returned to explain that the chef had been delighted to find one piece of alligator sausage. Knowing that our colleague had sincerely wanted that dish with her lovely eggs and biscuit, he had sent out that last piece for her—a piece large enough to feed all three of us!
We paid and walked the half block back to our hotel, congratulating ourselves on having found such an astonishing jewel on our own, doubtless an unknown treasure we could now inform the world about. We should be careful, we thought, not to tell too many people about our new secret, the Palace Café.
The occasion for our meeting up in New Orleans was the national conference of the State Humanities Councils; four colleagues and I were asked to represent the South Carolina Humanities Council, on whose board I serve. The national conference provides a unique opportunity for local representatives to build relationships with others around the country, and to explore new and exciting ways to improve our work with communities and individuals building an engaged citizenry and strengthening the civic, cultural, and social fabric of society.
The conference also provides a glorious chance for a country boy like me to see the big city.
I knew before I left South Carolina that the conference would absorb a great deal of energy and time and considerable work over the course of its three days. That would leave brief windows of time in which to see New Orleans between workshops and meetings; one such interval was the first evening's riverboat cruise, which comprised a perfect evening with good weather, trays of seafood and other elegant bites, and constant encounters with colleagues from all over, including Hawaii and Guam and Alaska.
That left us only a few chances to explore on our own and, on our second night, we had been invited by our friends in the North Carolina delegation to meet for dinner a short distance from our hotel. That meeting did not appear at first to involve dining in a particularly New Orleans kind of place (a steak house) but we would be seeing old friends and have the pleasure of catching up with each other. As it turned out, however, we had another remarkable meal, with beautifully trained servers in a private dining room, at Dickie Brennan's Steak House. There was something about the name which seemed familiar, but I was having too much fun to think too hard about that.
I sometimes enjoy a light aperitif before a meal, and I have a quirky preference for a simple dry Vermouth over rocks with a twist of lemon. I cannot count the times I have ordered this very basic, straightforward drink, only to encounter confusion on the part of servers and bartenders, alike. "You mean, like, just Vermouth? Can you drink that by itself?"
New Orleans convinced me of its bona fides when my requests for Vermouth/rocks/twist went completely unremarked, just served perfectly and quickly.
I got to test those bona fides once again at lunch on Saturday, when my friend and colleague, Tom Mack, and I decided to follow the recommendation of our mutual friend, Jo Angela Edwins, and take a cab to Jackson Square, in the heart of the Quarter. Jo Angela had had one of the best meals "of my life" at a little place there, so we walked in, no reservations.
It was crowded, and the hostess very sweetly explained that the wait for a table would be a half hour. Tom, handsome and charming, smiled at her and said, "I bet it won't take that long, will it?" We sat on a comfortable bench for our wait and, within five minutes, we were shown to a table! Another perfect vermouth, another exquisite meal, and a smile from the hostess as we left. "Come back and see us, Dr. Mack." Thanks to Jo Angela, we now had a third secret restaurant to let a select few friends know about. I could barely wait for the chance to let my foodie buddies know.
Only the kindest of my readers could have held in her or his chuckles as I have recounted my "discoveries" in culinary New Orleans. By the bizarrest of coincidences, over three days in New Orleans, I had managed unknowingly to dine at three of the four French Quarter restaurants of the famed Prudhomme-trained scion of the Brennan restaurant dynasty, Dickie Brennan. These, and the fourth, Bourbon, have been justly celebrated among diners, critics, and the press for years. My naiveté, in fact, made my experience even richer, I think, since my appreciation of the food, the glorious service, the sincere kindness and bonhomie of the staff—all were uncolored by critical acclamation or public reputation.

Crabmeat Cheesecake
The most-requested of the recipes at the Palace Café, according to the host, is the Crabmeat Cheesecake. Certainly, the name is part of its popularity, but the dish is worthy of celebration simply because it is so richly flavorful and savory. This recipe is essentially the one provided to diners at the restaurant, but it is also one of many in Dickie Brennan's Palace Café: The Flavor of New Orleans (now out of print, but copies are available from used book dealers). 
NB: Creole Cream cheese is a store-bought specialty in New Orleans markets; it can be made fairly easily at home, but the recommended substitution for most home cooks is to mix equal parts of plain yogurt and sour cream. My own version is to use Cabot's Plain Greek yogurt, which is considerably thicker than other brands, with sour cream, to result in 3+ tablespoons for the recipe.
Pecan Crust:
¾ Cup pecans
1 Cup all-purpose flour
½ teaspoon salt
5 tablespoons cold unsalted butter
3 tablespoons ice water
Filling:
½ small onion, diced
4 ounces fresh lump crabmeat, picked over for shells
8 ounces regular cream cheese
3 ounces Creole cream cheese (or substitute)
2 eggs, salt and white pepper to taste
Hot sauce to taste (Crystal brand is preferred in New Orleans)
Garnish:
2 tablespoons chopped shallots
4 ounces sliced mixed fresh mushrooms, wild preferred
1 tablespoon lemon juice
3 ounces Worcestershire sauce
1 ounce hot sauce
3 ounces heavy whipping cream (also called single cream in the UK)
3 tablespoons unsalted butter
Claw meat from 24 crab claws
Additional salt and freshly ground black pepper to taste
Preparation:
For the crust, grind together the pecans, flour, and salt in a food processor until fine. Pour mixture into a bowl, add butter, and cut into fine mixture until lumps form the size of a pea. Quickly pour in the ice water (no ice!) and use your fingers quickly to fluff up and mix it completely into the dough, which will be crumbly. Using a 9-inch tart pan, put the crust mixture in the pan, first pressing the mixture up the sides of the pan, then into the bottom of the pan. Bake for about 20 minutes in a 350-degree oven, allowing it to cool before filling.
Meanwhile, prepare the filling. Sweat the onions in a little butter, then add the lump crabmeat just to heat through. Remove from the heat and set aside. Either by hand with a wooden spoon, or with a mixer using a paddle attachment, blend the cream cheese until smooth and add the Creole cream cheese while mixing. Add the eggs one at a time, blending the mixture. Fold in the crabmeat/onion mixture thoroughly but gently; season to taste with salt, white pepper, and hot sauce. Pour the mixture into the cooled crust. Bake at 300 degrees until set and firm to the touch, about 30 minutes.
For the garnish atop the cheesecake, sauté the shallots until translucent, add the mushrooms and sweat until just cooked through. Add lemon juice, Worcestershire sauce, and hot sauce, and reduce by ¾ to a thick sauce. Add heavy cream and reduce by half. Whisk in the butter. In a separate sauté pan, add crab claw meat to warm up, salt and pepper to taste, then pour the mushroom sauce reduction over the crab claws and keep warm. Slice the cheesecake into eight servings: each slice gets three claw fingers and 2 tablespoons of sauce.

NB: The images used derive from several sources. The first image of the riverboat Natchez is by Tulane Public Relations and is used under Creative Commons License 2.0. The second image of the Palace Café is from Wikimedia Commons and is attributed to Frogmation of New Orleans (GFDL license). The third image of crabmeat cheesecake is used by permission of the Palace Café, New Orleans.