"I soaked up like a sponge/my mother's Thirties ethic: Throw away/nothing! Yet somehow, out of the blue,/here you are, a spendthrift, prodigal, clean/break with your ancestral line, a brush/with risk and danger."—Maryann Corbett
Speculative Friction
By Claire Bateman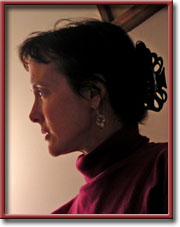 GREENVILLE South Carolina—(Weekly Hubris)—March 2018—Poet Maryann Corbett was born in Washington DC, grew up in McLean, Virginia, and has lived in Minnesota since 1972 and in Saint Paul since 1986. Trained as a medievalist and linguist, she earned a doctorate in English from the University of Minnesota and spent almost 35 years working for the Minnesota Legislature as an in-house writing teacher, editor, and indexer. Her poetry is widely published and has won such awards as the Willis Barnstone Translation Prize and the Richard Wilbur Award. She is the author of Street View (Able Muse Press, 2017), and three previous books of poetry: Breath Control (David Robert Books), Credo for the Checkout Line in Winter (Able Muse Press), and Mid Evil (University of Evansville Press), as well as the chapbooks Gardening in a Time of War and Dissonance.

The Art Student's Mother Thinks Out Loud
By Maryann Corbett
I can't believe you're going back to clean,
white canvas. All that work, gessoed away—
tossed, a lightweight love affair, expunged,
wiped out with giant swipes of a housepaint brush.
You swab it on in globs, a cumulus
fair weather over the storm of art that blew
out of your cloudy head. You wanted blue,
you said; you needed paint. I let you clean
me out of hallway touch-up color. In cumulous
rag piles, Pollocky drips, you slathered away
days, nights, acrylics, oils—used every brush
you own, and then took mine, down to the sponge
out of my kitchen. Stuff I let you sponge
off me, wasted! You never settle. You blow
things off. I'll stick with words instead of brushes,
chisels, cameras, things you have to clean,
maintain, replace, keep dribbling away
cash on. I'm tight: fond of accumula-
tion, hoarding, piling up (what cumulus
means: a pile). I soaked up like a sponge
my mother's Thirties ethic: Throw away
nothing! Yet somehow, out of the blue,
here you are, a spendthrift, prodigal, clean
break with your ancestral line, a brush
with risk and danger. Should I learn to brush
off years of ingrained habit? Rain like a cumulo-
nimbus crazy thunderhead, wring clean
this brain of words till it's an empty sponge?
Spend myself with abandon on the blue
jewel of a poem, not care what blows away?
Grasp it: the world likes waste. It throws away
a million buds from the backyard tree; we brush
them off the walks, into the compost. They blow
down freely. No resentment. White as cumulus,
your empty canvas waits to be the sponge
for your next grand inspiration. In the clean,
clean air outside, rough with the breeze's airbrush,
old work is scoured away, and cumulus-
white sponges are scrubbing off the sky's blank blue.

Corbett's poem appears in Credo for the Checkout Line in Winter © Maryann Corbett, 2013. Used by permission of Able Muse Press[https://www.ablemusepress.com/].

To read more about William Hawkins, the painter of "A Marshwiggle Lives Here," above, go to: http://williamhawkins.blogspot.com/2010/06/ and https://plus.google.com/101692565390143285126

To order copies of Claire Bateman's books Scape or Coronolgy from Amazon, click on the book covers below.