Won Over By Reality
By Tim Bayer
Note: This column originally posted on 5/19/2014.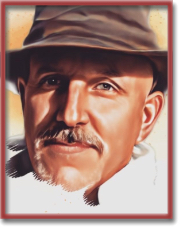 BRIGHTON New York—(Weekly Hubris)—7/4/2016—As the resident technology and science geek here at Weekly Hubris, I have assumed a cosmic perspective on July's topic: Home. Perhaps no one has so powerfully and succinctly described our minuscule place in the universe as Carl Sagan, when he described Earth as "a pale blue dot."
First, in case you missed my last post, here's a link back to Robotic Humor: Impressive & Funny.
After watching a robot, click the link below to the video with Carl Sagan's description of our shared . . . pale blue dot.
(If you, yourselves, come across an entertaining link or video, I'd be interested in seeing it, and sharing it with my readers at Weekly Hubris. Please contact me at: Email: tim@demogrid.com.)