"My foremothers/stand behind me/dressed in the indigo of the cosmos/stars for eyes with no recipe/ or cookbook in hand/just thousands of hearts resonating,/It's time for you to know too./They pour into me."—Glenis Redmond
Speculative Friction
By Claire Bateman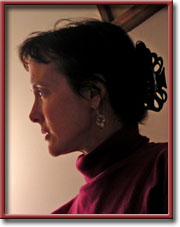 GREENVILLE South Carolina—(Weekly Hubris)—March 2019—Glenis Redmond travels nationally and internationally and has earned the title, "Road Warrior Poet." She serves as the Poet-in-Residence at The Peace Center for the Performing Arts in Greenville, South Carolina, and at the State Theatre in New Brunswick, New Jersey. A Kennedy Center Teaching Artist, Redmond is listed in their National Touring Directory.
In February 2016, at the request of US State Department for their Speaker's Bureau, Redmond traveled to Muscat, Oman, to teach a series of poetry workshops and perform poetry there for Black History Month. Between 2014 and 2018, she served as the Mentor Poet for the National Student Poets' Program to prepare students to read at the Library of Congress, the Department of Education, and for First Lady Michelle Obama at The White House.
Redmond is a Cave Canem Fellow, a North Carolina Literary Fellowship Recipient, and a Kennedy Center Teaching Artist. She also helped create the first Writer-in-Residence at the Carl Sandburg Home National Historic Site in Flat Rock, North Carolina.  Redmond's "Dreams Speak: My Father's Words" was chosen for third place for the North Carolina Literary Review's James Applewhite Prize and "Sketch," "Every One of My Names," and "House: Another Kind of Field" will be published in NCLR in 2019. These poems are about Harriet Tubman, the most famous conductor of the underground railroad; Harriet Jacobs, who escaped from slavery and became an abolitionist, and the author of Incidents in the Life of a Slave Girl; and Harriet E. Wilson, who was held as an indentured servant in the North and went on to become an important novelist, businesswoman, and religious speaker.
Redmond believes that poetry is a healer, and she can be found in the trenches across the world tending to those in need, one poem at a time.  

Recipe of How I Write
By Glenis Redmond        
Out of hunger I find myself here
with teeth in stomach
leaning into the ache.
Crack my whole self against
the kitchen island
There is so much is born here
where I cook.

My foremothers–––
stand behind me
dressed in the indigo of the cosmos––
stars for eyes with no recipe
or cookbook in hand
just thousands of hearts resonating,
"It's time for you to know too."
They pour into me.
With one hand, I let the yolk spill
into the container of the poem.
Turn known and unknown,
blend with the salt of my tears
and the cayenne of my rage.
They hand me what they have at hand:
dust from galaxies, water from rivers
always red clay of the Palmetto
and the West Coast of the Motherland.
With a machete's sharp blade
they hold my heart just so
—fill it with stories and dreams.
In unison they sing, "now write."
In this heat I prepare
bake, broil and stew.
Only when they say, "ready."
Can I set the table
of both page and stage.
Serve what cannot be made
anywhere else.

Extracting Light or How to Get Here from There
By Glenis Redmond        
I don't know much about history–Sam Cook
Metal Or, astronomy for that matter or one celestial body
blocking the light of another, but I do feel the mystery
of the eclipse. Heard mama's warning, "Don't stare at the sun
even though it looks like the moon don't be fooled. You'll go blind."
I saw her break a blue bottle at the neck. Peer through
to capture the awe. Me? I have stumbled from the loss of light in a room.
The room is my own history. The stubbed toe: my ignorance,
but I know I have no way to navigate my lineage
without the brightest light in our families' constellation, mama.
I marvel at how many miles I thought that I had traveled––
being the first of our nucleus to earn a college degree––
master's degree even, but I ain't traveled nowhere 'til I look back.
Catch hold of the gold mama spins.
Learn to weave a web of light of my own making
in order to make my way down dark halls.
Without her moon glow or sunlight it is hard for me
to see myself clear, but eventually it dawns on me
to form a question. Go on a spirit quest.
I know sometimes I am just slow, but I get there. Here:
Mama, "Are you the first person in your family to graduate from high school?"
Did I know the answer? Surely, I knew, but I didn't.
Standing in her driveway in Canterbury outside my childhood home,
the poet-to-poet connection is not lost on me. On First Day Street
she stares at me with her brown eyes ringed blue like Saturn.
"Yes," she says. "Your dad and I were in the last graduating class
of Fountain Inn Negro High School"––
the lines are drawn deep and the scorch is held in the name.
To get there from here, you have to trust––
follow me down a back road where memories cling like red clay dust.
You will need the following items:
A Black cast iron cauldron
5 Buckets of well water
1 Large stick
A Bar of lye soap
Bluing
A Mess of clothespins
A Clothesline
A Box of Argo Starch
A Flat Iron
A Washboard
A Galvanized tub
Piles of dirty laundry
Stacks firewood
A Mother's will
A Daughter's wish
One day the daughter with a spark in her eye
asks her mama for a high school ring.
She does not get a po' mouth parent's quip:
Money don't grow on trees.
Or, this ain't no gimme South Carolina.
She's met with her mother's mind and hands set
on giving her what she asked for––
what she herself never had––
not just a ring, but a way out of Waterloo,
She has already sent her daughter to live in Greenville County,
because there are no "colored" schools in Laurens.
Those lines are drawn deep enough to separate families.
Even though this mama has been branded
by you can't get there from here,
a black woman with a third grade education
the coins she collects for taking in washing
weren't the only sense she had––
she's got triple and quadruple loads of common sense
more than the laundry she handles.
She puts match to dry kindling and her will.
Brings well water to a boil––
each bucket had to be toted ––
brought to a strong boil.
This takes a while. She had time and made the best of it.
You know what they say about a watched pot.
So, she put her eye and knuckle to scrub board
to wrestle with the presoaked stained garments.
Rumor was:  she washed the whitest whites for the whites.

Hard work, but she did not give way
like the blood, piss and red clay stains
under her work-weary-wrinkled hands.
No one knew how she spoke over each garment:
Yay though I walk through the valley of the shadow
of death I will fear no evil. Whatever it took to ease the mind
and the spine curved over whatever was soiled:
crease of collar, crotch of panties and baby diapers.
A cigarette always hung from the crook of her mouth.
Lip pressed around the tan butt as she released smoke.
Sometimes she muttered a blessing or a curse:
Say, Shit drawn out long and slow
as if she were trying to lift the stank.
First by word, then by hand,
but you didn't hear it told from me.
Or, she just sang as she stirred the pot:
What a friend we have in Jesus––
either curse or prayer, each garment wrung
like a chicken's neck––to draw the water out.
Then, wrenched out in a tin tub full of bluing.
Then, clothes penned to the line to meet sun and wind.
Clean and dry clothes ain't the end,
but another beginning.
Heat iron on the stove. Sprinkle with starch.
Press every white thang flat like new money.
Munch on some starch too.  Beats back blood thirst.
Fold clothes.  Wrap in brown paper sacks.
Tie with string. Hand to daughter.
She collects nickels and dimes––
some times twenty-five cent pieces.
Repeat process over and over until there's enough
coins in the pickle jar.
Forget pomp and circumstance.
This act of mama placing high school ring
on her daughter's finger is pure light
meant to cure the blues: indigo and midnight.
Break curses. Release blockages. Break bondage.
Daughter catches the fire in her mama's eye.
Understands how brightness too is passed
down the line even in the deepest of nights––
never forgets to carry this shine.
Published in "The Jasper Project," August, 2017.

To order copies of Claire Bateman's books Scape or Coronolgy from Amazon, click on the book covers below.