"I have been lucky to live with these storytellers who gave me so much material to write about. One regret is that they rarely wrote things down, themselves."—Diana Farr Louis
Eating Well Is The Best Revenge
By Diana Farr Louis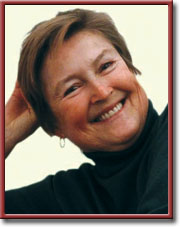 ATHENS Greece—(Weekly Hubris)—February 2017—Storytellers have always won my admiration and awe. While I think the world can be divided between talkers and listeners, the men and women who can really hold our attention, spellbind us with their words and tales, are few in number. Naturally, there are plenty of people who fancy themselves as "the life of the party" and who drone on in extraordinary detail about their families, jobs, or opinions until our minds grow numb. But a real storyteller knows exactly how much information to give, how to pace it, how to keep you interested, and when to stop.
One reason I admired them so much initially is that I was painfully shy as a child and later as an adolescent. I didn't much like engaging with people and sought refuge in books. The printed word and world were so much safer.
The first person who enchanted me with her well-spun stories was my stepmother, Betsy, who arrived in my life when I was eight, four years after my own mother had died. Although she was only 27, herself, she had seen the world and knew just what details would fascinate a child. Born in Half Way Tree, Jamaica, she'd had a monkey in Nicaragua and, at six, pretending to be a barber, cropped all her playmates' hair in Washington DC. In Breslau, Otto von Bismarck's bratty red-haired grandson had stuck her pigtails in his inkwell, while in Florence she went to school near the Piazza della Signoria, always wishing she could peek under the fig leaves of the naked statues there.
Later on, the descriptions of her romances—she'd resolved to call all her boyfriends "Darling" because she couldn't keep their names straight—and the crush she had on the handsome Prussian officer who used to call on her mother seemed far removed from the mundane social life of Lawrence, Long Island.
And I hold her directly responsible for the magnetic pull Europe had on me.
At school and college, there surely were some good talkers, but I did not fall under anyone's "word spell" (as opposed to physical charms) until I met Alexis Ladas in Paris in 1964. He was by no means the first sexy European man I'd met, and he was devilishly attractive—priding himself, he told me later, on bearing a strong resemblance to Gary Cooper. That was perhaps more fanciful than true but on our first evening out I found myself hanging on his every syllable. He had a mellifluous, deep voice and he spoke beautiful English with a cultivated rather than national accent.
Again, like Betsy, he'd led an adventurous life and being a year older than she, experienced much more of it than I.
He'd had "an interesting war," which involved being captured for espionage in Greece, lengthy imprisonment, and a narrow escape from being executed before a firing squad, as well as passionate leave in wartime Cairo with friends like Larry Durrell and Paddy Leigh Fermor. He'd captained a schooner that reported on German naval activity in the Eastern Aegean, had a pet seal named Panagiotis, and outranked Dag Hammerskjold as chief UN officer in Jerusalem when he was posted there. (On a technicality, of course, but still.) When he talked about these experiences and many more, I felt like Desdemona, entranced by Othello and his dramatic past.
Many of his stories involved women, and he was but periodically monogamous, so our marriage lasted about five years. In the meantime, however, he bequeathed to me a whole family of storytellers, particularly his mother, Dora (known as Dodo), and his sister, Marina Sulzberger (wife of C.L., "The New York Times'" foreign correspondent), who could turn the simplest event, like a taxi ride in Paris, a trip to a New York delicatessen, or a State Dinner, into a side-splitting saga without dropping names or inflating her own ego in the process. She was possibly the best storyteller I ever knew and she left us all too soon.
But I was to discover that storytelling comes naturally to Greeks, and in those blessed days before television anesthetized the country, you could listen to amazing yarns in island cafés and tavernas. Homer's heritage lived on.
Not long after I moved to Athens permanently, I found my own live-in bard. He was handsome, with a crown of prematurely white hair and a wrinkle-proof "Mediterranean" complexion; funny, kind, charismatic and, although a talker, also a listener, an athlete, and a reader. His name Harilaos translates as "Joy of the People"—some of you have met him in these pages under that appellation—and it fits. He would have been perfect had he not been married.
Nevertheless, we managed and are still together 40-something years later. His stories have never palled. Perhaps the ones I love most are about Athens before the war when his parents ran an open house and he had to fetch retsina from huge barrels in the basement, "a liter at a time to make sure it was fresh" for his demanding father and his guests. Back then, a drive to Anavyssos (on the coast before Sounion) would take all day, but the company caïque would haul in nets dancing with fish in unthinkable quantities and varieties.
He is excellent at presenting personalities: his grandmother, who spoke to him in French and took him to Charlie Chaplin movies; his much older brothers, who spoke to their father, The Admiral, in the polite plural until he told them it was ridiculously formal; his beloved teachers; boy scouts; and the aunt who spoon-fed him caviar to build up his strength.
But his stories take me and other eager listeners back to Athens during The Occupation, when he watched the Germans empty the National Bank of Greece of all its coins, negotiated pavements with famine-stricken corpses, and played daring games with friends that could have ended with jail or worse. By early 1944, he learned his name was on a "wanted list," and so he left the beleaguered city, making the same perilous journey to neutral Turkey that Alexis and Marina had made (separately) a couple of years earlier. Like them, he eventually wound up in Egypt but, unlike them, Harilaos returned to Athens and, apart from two years in Edinburgh and London, lived and worked here.
His tales of post-war Greece are fascinating, too, whether he is talking about a paradise as yet untainted by tourism and conspicuous consumption, or of medical school and unprintable descriptions of nepotism and incompetence in supposedly high circles. Sadly, for me, he rarely brought home hospital dramas of the kind you see on TV, though there were plenty, preferring to leave his work behind. Likewise, when confronted with a complaint from me about an ache or pain, his reaction is still, typically, "It will pass" (and it usually does).
I have been lucky to live with these storytellers, who gave me so much material to write about. One regret is that they rarely wrote things down, themselves. My mother, Betsy, spent the last years of her life "writing her autobiography in her head"; Marina composed beautiful letters, some of which were collected in her husband's biography of her; and Alexis had several stories published in Harper's before he got a terminal case of writer's cramp around the time I met him in the mid-60s. (I do not think I was the cause.) He also successfully outwitted our son in his attempts to record him, becoming uncharacteristically silent whenever he suspected he might be taped. A fictionalized account of his romantic role as a schooner captain during the war was published posthumously as Falconera by Lycabettus Press.
As for Harilaos, he has published an account of his escape from Greece and subsequent adventures in Egypt in a multivolume publication by the Hellenic Navy*, but when we plead for more, he shrugs and says, "Who would be interested?"
At some point long ago, I embarked on a memoir to tell the stories that had so enticed me when I first came to Greece. Now I find that I too am running out of steam, lacking the energy to write for fun and posterity when I need to earn money through translations, editing, and the odd bit of journalism.
But maybe stories have to be heard. I think back on Henry Miller's descriptions of Katsimbalis, "The Colossus of Maroussi," who held everyone enthralled for hours. Who can remember what he said? He lives on as a legend like these members of my family.

*Β' Παγκοσμιος Πολεμος,  Οι Πολεμιστες του Ναυτικου Θυμουνται, Τομος Γ, Αναστασιος Κ. Δημητρακοπουλος, Ναυτικον Μουσειον της Ελλαδος, Πειραιας 2011 (pp. 165-87)  (The Second World War: The Warriors of the Navy Remember, Vol. 3, Anastasios K. Dimitrakopouloa, Naval Museum of Greece, Piraeus, 2011.

Recipe
While Alexis was a fabulous cook, Harilaos is a wonderful sous-chef. He makes a mean salad dressing, cuts potatoes especially thin for frying (yes, we do indulge occasionally), and used to be an octopus expert before we stopped eating them after reading Sy Montgomery's The Soul of an Octopus. But he is an appreciative eater and decades ago he handwrote a recipe for Curried Meatloaf that has stood the test of time. I reproduce it here without the grease marks and the yellowed paper.
Curried Meatloaf
2 lb. chopped beef, preferably with a little fat to keep the loaf moist
1 tsp grated fresh ginger or ½ tsp powdered
3 cloves garlic, crushed
1 medium onion, grated
2 tsp ground coriander
¼ tsp paprika
⅛ tsp ground cloves
⅛ tsp ground cinnamon
1 tsp salt
1 egg, beaten
Mix all the ingredients together, place in a loaf pan, and cover with aluminum foil. Bake at 350°F for one hour.
Curry Sauce
1 tbsp vegetable oil
1 onion, chopped
1 tbsp hot curry powder
½ tsp turmeric
1 tsp paprika or hot pepper flakes
2 tsp ground coriander
½ cup tomato paste
salt to taste
2 tbsp chopped parsley
Heat the oil and sauté the onion until soft. Add the spices and stir for a moment; add the tomato paste. Pour in the juices from the meatloaf, add a little water if necessary, and simmer for 10 minutes until the sauce is thick. Sprinkle with parsley. Serve separately.
This dish will feed 6 people. I usually tinker with the spices and definitely add cumin and plenty of Aleppo pepper. It is utterly delicious.

To order copies of Diana's Farr Louis' newest book, A Taste of Greece: Recipes, Cuisine & Culture, from Amazon, click on the book cover below.