"There were three girls jumping/double dutch on the blacktop below/him, and he looked down because/even their voices sounded nimble."—Charlotte Matthews

Speculative Friction
By Claire Bateman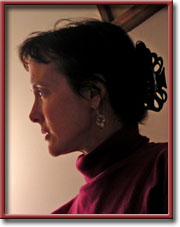 GREENVILLE South Carolina—(Weekly Hubris)—December 2017—Charlotte Matthews' most recent book Whistle What Can't Be Said (2016) chronicles part of her experience with Stage III breast cancer. In addition, she is author of Still Enough to Be Dreaming (2007) and Green Stars (2005). Her honors include fellowships from The Chatauqua Institute and The Virginia Center for Creative Arts. She holds an MFA from Warren Wilson College's Program for Writers and a BA from the University of Virginia. She teaches in The Bachelor of Interdisciplinary Studies Program at The University of Virginia. She lives in Crozet with her husband, her two children, a Black Lab, and a very quiet fish.

Why Humpty Dumpty Fell
By Charlotte Matthews
There were three girls jumping
double dutch on the blacktop below
him, and he looked down because
even their voices sounded nimble.
This made him remember the way
his mother sang him to sleep at night,
each star in the sky reliably framed
in a hexagon from their wire coop.
He fell because, like all of us,
he wanted to know if someone
would care enough to try
to put him back together again.

To order copies of Claire Bateman's books Scape or Coronolgy from Amazon, click on the book covers below.