"Climate change must inevitably mean garden change as well. The garden is in the process of changing all the time. As a gardener, I am always trying to impose my own intentions on the plants, on their environment, and on their development. At the same time, the global forces of nature are imposing their own chaotic 'intentions' on me."—William A. Balk, Jr.
Epicurus' Porch
By William A. Balk, Jr.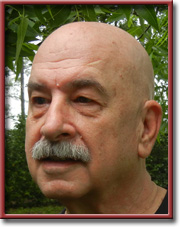 BEAUFORT South Carolina—(Weekly Hubris)—March 2019—It's an already-exhausted trope that the weather has just gone crazy, though we've seen little, yet, of what changes climate has in store for us in the future. Here, at least, in the Carolina coastal plain, it's been wetter than usual, warmer than usual, and the gods have spiced it up a bit with some quite cold periods which can wreak real havoc with the weather-whipsawed garden plants.
The waterfront "garden" (the euphemism is convenient for allowing me to gloss over its rushing return to jungle) in Beaufort County actually has come through it all relatively unscathed; I've long since abandoned trying to be too sly about terribly tender plants in that garden, and the moderating influence of the tidal creek makes some things that would be quite marginally hardy persistent through most conditions, both heat and cold.
The glorious Magnolia x loebneri "Leonard Messel" has hinted at its imminent show of pink five-inch blooms, each with a dozen or so strap-like petals. It's later this year than the old-fashioned Magnolia soulangeana, which sits exposed just back from the edge of the bluff, 20 feet tall, and which almost always shows frost damage if the weather drops below 32 when the blooms are open. 
The huge Crinum asiaticum, the Giant Spider Lily, kept its 3- or 4-foot-long green leaves well into December this year. Usually, an early frost knocks it back to the ground, mushifying it into an ugly low mound of brown. This kill-back actually does wonders protecting the big bulb growing just at ground level; it keeps the heart of the plant alive to send up that magnificent foliage in the spring—and the breathtaking spidery blooms atop tall thick stems in the summer. These blooms seem to attract late-evening visitors—also huge—to pollinate and sip sweet nectar. Great sphinx moths will sometimes congregate among these flowers, an amazing sight; the first time I saw this, I didn't know what it was. Could that be some mutant nocturnal hummingbird? Google "sphinx moth" or "hawk moth" and you'll find remarkable images of the moths going to the rare Ghost Orchid.
There's no cold damage at all to my Cycads, those surprisingly tough Sago palms in many Beaufort gardens. These are protected from the cold blasts by an overstory of high pine trees and dense woods on the west. There have been cold winters which have left their dark green fronds burned, even killed back entirely, but these survivors from the Eocene Era (some 50 million years ago) manage usually to send out a flush of new growth to replace all those brown fronds. This year, the new growth will add to the undamaged corona of big palm-like foliage that made it through the winter.
Likewise, the Hydrangeas have so far weathered the mild winter freeze with little damage. Even if the more delicate ones die back, they'll usually put up new growth from the ground. I've come to expect some killing back on the taller H. macrophylla types, the mop-head and lace-cap garden hydrangeas. That gives me a good excuse to prune back those dead branches before spring growth.
Having said all that about our good fortune in the northern Beaufort County garden, the cold was more intense in the upper-Lowcountry/lower-midlands section of the state during that "polar vortex" storm that came through several weeks back. Plants in the farm garden have shown damage, even some very hardy ones. I can't tell yet whether the many varieties of Crinum lily have survived—they look truly awful. The same for the Agapanthus bulbs. But we were not in the path of the worst cold from that storm, and I'm pretty confident that most plants—even tender ones—will recover unless we get more of that radical cold.
Despite appearances during the worst of the storm, my magnificent and much-loved camellias—both C. sasanqua and C. japonica—survived well and undamaged. The quite old sasanquas, reaching 15 to 20 feet high, bloomed their heads off all autumn. There was a short pause of two weeks or so before the Camellia japonicas began their glorious show of blooms. They're still in full force, and they, too, should remain magnificent for another couple of months of bloom. They usually catch a cold snap or two during their show, but that only ruins the blooms that are open when the freeze hits; the hundreds of unopened buds continue the display once the weather warms up a bit.
The lovely blue Cupressus arizonica "Carolina Sapphire" cypress, a beloved gift from my bookie (as in books, not horses) friend Chris Stanley, has continued to grow impressively. It replaces a gigantic red cedar which grew in the side yard for decades until it was ruined in an ice storm. In the few years I've had it, the blue-tinted "cedar" has grown from 3 feet tall to 12 feet, and it spreads out to nearly 10 feet wide. 
I transferred most of my Hydrangea quercifolia plants—the Oakleaf Hydrangea—to this inland garden, and they are indeed handsome up here. It always amazes me that they keep some of their foliage through the winter, and the fact that it turned a beautiful burgundy red in the fall means it supplies some delightful color all winter. They're so easy to propagate, and so easy to care for if they get enough water during the dry periods, that it seems like gratuitous excess when they bloom in the late spring and summer. Those huge panicles of white flowers, which age into rosy hues as the weeks progress, set hearts—at least mine—soaring. Those vagaries of our winter weather offer little problem for these wonderful native woodland plants.
One red maple, the lone survivor of a group of maple seedlings shared by our literal alma mater, Elizabeth Boleman-Herring, brought south as progeny from a spectacular specimen near her erstwhile home in Teaneck, New Jersey, manages still to grow and prosper. Winter's cold shouldn't be a problem for it, but the heat of our summer and the long warm spells of our new winters may eventually drive the lovely little tree to suicide.
Once virtually unknown in our gardens, the Rice-Paper Plant, Edgeworthia chrysantha, has become much more frequently used. I've grown these now for some 25 years, and their mid-winter bloom clusters on bare branches are always welcome. Many gardeners celebrate their delightful scent, especially when blooms are brought indoors, but my nasal passages are usually so constricted I rarely am able to detect a scent. It's worth noting that Edgeworthia's summer foliage is quite handsome, almost tropical, and the branching growth of the shrub is interesting.
Climate change must inevitably mean garden change as well. The garden is in the process of changing all the time. As a gardener, I am always trying to impose my own intentions on the plants, on their environment, and on their development. At the same time, the global forces of nature are imposing their own chaotic "intentions" on me, on the garden, and on the world. More and more I am coming to realize the tiny effect any of my efforts in the garden ultimately have; the jungle creeps in, the plants suffer from excessive sunlight when trees come down, they fail from too much shade as trees grow up around them. Each season now—not only winter—presents utterly new and unexpected challenges for the garden and for ourselves. The adaptations we will be called to adopt ourselves will make truly minor the changes we require of our gardens. There's no Guide to Gardening to help us into this new world.

Note: The image of the magnolia above is from the Brossard Garden Centre, Montreal; the sphinx moth image is in the public domain in the United States; the photo of the oakleaf hydrangea is by K M under Creative Commons BY 2.0; the photo of edgeworthia is by Carolyn Walker.