Eating Well Is The Best Revenge
By Diana Farr Louis
"It was May 1971 and I was sitting on the sofa in the darkened living room of the Bacigalupo family in central Rapallo, either before or after a delicious lunch. Two streets in from the palms, cafés, and ramblers of the 'lungomare' seaside promenade, this viewless first floor apartment shared none of the beauty of the Italian Riviera and yet it was one of the liveliest, warmest places on it." Diana Farr Louis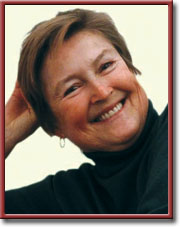 ATHENS Greece—(Weekly Hubris)—12/24/2012—"One day, many years from now, you will look back at this time here as one of the best in your life."
It was May 1971 and I was sitting on the sofa in the darkened living room of the Bacigalupo family in central Rapallo, either before or after a delicious lunch. The shutters were invariably lowered, both to shut out the traffic noise and the glaring Mediterranean sun. Two streets in from the palms, cafés, and ramblers of the lungomare seaside promenade, this viewless first floor apartment shared none of the beauty of the Italian Riviera and yet it was one of the liveliest, warmest places on it.
The owners, Bubi (short for Giuseppe) and Frieda Bacigalupo, were doctors: she a pediatrician; he a physician. Frieda, a native of Pennsylvania, had fluffy white hair, pink cheeks, and enormous energy, which she dedicated to looking after people, starting with her small patients but including anyone and everyone with the slightest problem or worry. Bubi, slim, elegant, humorous, and kind, ran the Villa Chiara, a clinic where he treated not only my father but most probably all the celebrities who used to flock to Rapallo in its heyday. He knew every one of them, from silver screen legends such as Lillian and Dorothy Gish, Tallulah Bankhead, Sexy Rexy Harrison and his wives, Lilli Palmer and tragic Kay Kendall, to more literary types such as Isaiah Berlin, Max Beerbohm, and Auberon Herbert (who appears as "Boy" McCalster in his brother-in-law Evelyn Waugh's Bridehead Revisited).
By the time I settled in Rapallo in October, 1970, as an escapee from divorce and other difficulties in New York and following my parents' lead (see https://weeklyhubris.com/sailing-with-the-costa-line-1971/), such personalities were thin on the ground and everyone I met was English or Polish, 65 going on 90, and overly fond of the bottle, either whisky or vodka. Like my parents, they had come to stretch their pensions in the sunny land of the inexpensive lira, and Rapallo seemed to be more retirement home than resort.
The Bacigalupos saved me. Not only were they welcoming and hospitable, they also had two bilingual sons, Massimo and Andrea, who were to become friends for life and constant companions during my eight months as a Rapallo resident. There were countless sails (with swims) on the Vagabonda II, a lovely wooden sailboat with a sky-blue hull; walks and picnics on the steep mountains above Portofino and Santa Margherita, improbably wild and rugged compared to the manicured villas and palazzi on the coast; tennis games and horse shows, where Andrea won prizes; dinner parties up at Massimo's rustic peasant cottage, where we watched and sometimes filmed obscure "underground movies;" and frequent lunches or dinners chez Frieda and Bubi.
I seem to remember the conversation being mostly in English, perhaps out of deference to my rather shaky grasp of Italian, but Frieda and her mother, Mary Natale (whom my mother called Mary Christmas) were native speakers too, and I was never left out. One topic surfaced regularly and that was diet.
The menu invariably began with some sort of pasta: spinach gnocchi, trenette al pesto with potatoes and green beans (with the pasta al dente but not the beans), pansotti (big ravioli) with walnut sauce, or spaghetti with butter and a grating of white truffle and a little Parmigiano. Or perhaps porcini, in the fall. Then we might move on to fish or a veal roast with vegetables and, of course, a fresh green salad, but pasta was the pièce de résistance.
As summer approached, Bubi would start his diet in order to slim down just a kilo or two in order to appear svelte in his bathing suit—not American-style baggy trunks but more like Johnny Weissmuller's Speedos of the day. The diet consisted of naked pasta, un-sauced, and it worked. Frieda, on the other hand, who fretted about being plumpish, complained that merely looking at it made her fatter. She would stare mournfully at her undressed lettuce leaf for a moment before she regained her usual exuberance.
Then, the conversation would take off and we would chat about past and present, literature and art, Italy and the US. The only famous person I met at that table was Ezra Pound. Bubi had apparently played tennis with him as a teenager before he went on to become a national champion in the 30s, while Massimo had engaged T.S. Eliot's "il miglior fabbro" in chess and would go on to become an authority on this controversial poet.
Alas, the talk that evening did not flow easily. After his disgrace at broadcasting propaganda for Mussolini and his subsequent stay at St. Elizabeth's mental hospital in DC, Uncle Ezra had vowed never to speak of either poetry or politics again. So, that evening, he was mostly silent. Frieda tried to draw him out but the only statement I recall was his pronouncement on how the Church calculates Easter: "It always falls on the first Sunday after the first full moon after the Vernal Equinox."
How lucky was I to have Frieda as my son's pediatrician that year. Aged five, he'd never been sick (despite his traumatic birth) before and he never would be again but, in Rapallo, he managed to contract chicken pox, mumps, German measles, and tonsillitis. Because he was such a spindly kid, Frieda wanted to toughen him up with Vitamin B12 shots before the tonsillectomy. Though she had formidable powers of persuasion, she managed just one. The jab hurt so much, he'd slip under the bed every time he heard her voice, so she sent him to the surgeon unfortified.
But Frieda was more than a doctor. She served as president of the American Women's Club of Genoa and on the boards of the local library and cultural organizations. In 1972, the Italian state declared her a Cavaliere della Repubblica (comparable to receiving an OBE, Order of the British Empire) and, upon her death in 1983, the International Federation of American Women's Clubs funded a scholarship in her name.
Bubi, who outlived her by 16 years, became the author of a charming portrait of his home town, Ieri a Rapallo (Yesterday in Rapallo), filled with gossip, history, and delightful reminiscences. This year, on the 100th anniversary of his birth, Massimo (now Professor of American Literature at Genoa University) co-curated an exhibition of photos and texts on "The World of Giuseppe and Frieda Bacigalupo, International Culture in Rapallo, 1912-1999" in the old Norman castle at Rapallo. It was such a success that from December 6th to January 11th it will be on display in Genoa at the Palazzo Ducale.
I know that very few readers will have the chance to see it, to get to know this remarkable couple and their circle. I won't be able to attend myself. But seeing some of the comments and photos has reminded me of what a privilege it was to be close to them. To hear Bubi describe 60s dancing as "shake before using," to watch him monitoring the boiling of the pasta in my mother's kitchen when she invited him to dinner, to inherit Frieda's Fiat 500 when I left Rapallo for Athens . . . to hear her call me "Cara."
When Bubi told me how I would look back on my time with them, I didn't want to hear it, didn't want to believe the idyll was over, but he was right. Thanks to them, Rapallo occupies a unique place in my heart, my third home after New York and Athens.

RECIPE
Trenette with Pesto, Potatoes, and String Beans
I've been back to Rapallo several times since 1972 but, in 1999, I was a guest of Oldways Preservation & Exchange Trust on their spring tour of Liguria. On that trip I met the marvelous Fred Plotkin, an authority on opera and Italy in general, and Liguria in particular. I've lifted this recipe from his literary cookbook, Recipes from Paradise (Little, Brown & Co., 1997), which contains hundreds of anecdotes and quotes from other illustrious writers, from Mark Twain to Charles Dickens, Nietzche to Yeats, who lived in this charmed part of Europe. It is a fitting complement to the world of Giuseppe and Frieda Bacigalupo.
As Fred says, "This is the classic pasta dish of Genoa [made with] Trenette . . . dried flat strands of pasta . . . . While pasta is famous throughout Liguria and beyond, the addition of potatoes and string beans is classically Genovese . . . ."
4 ounces/110 g fresh thin string beans, washed, cut in half, tips cut off
2 medium potatoes, washed, peeled, cut into bite-size cubes
12 ounces/350 g trenette
4 tablespoons/60 ml pesto
1 tablespoon cooking water from the pasta pot
Freshly grated Parmigiano-Reggiano (optional)
Bring a large pot of cold water to boil. When it reaches a boil, toss in a pinch of sea salt. When the water returns to a boil, add the string beans and potato cubes. Cook for 5 to 7 minutes, or until you can poke a fork easily into one of the potato cubes. The add the trenette and cook until al dente, following the instructions on the package. While the pasta is cooking, place the pesto in a large serving bowl and stir in 1 tablespoon of hot water from the pasta pot. When the pasta are al dente, drain them along with the string beans and potatoes in a colander. Immediately transfer to the serving bowl, toss well, and then serve in individual bowls. You may add a pinch of Parmigiano-Reggiano to each dish, but do not overdo it or the dish will dry out (remember, there is already cheese in the pasta). Makes 4 servings.